A total of £56,624 has been donated to local charities by Hereford Crematorium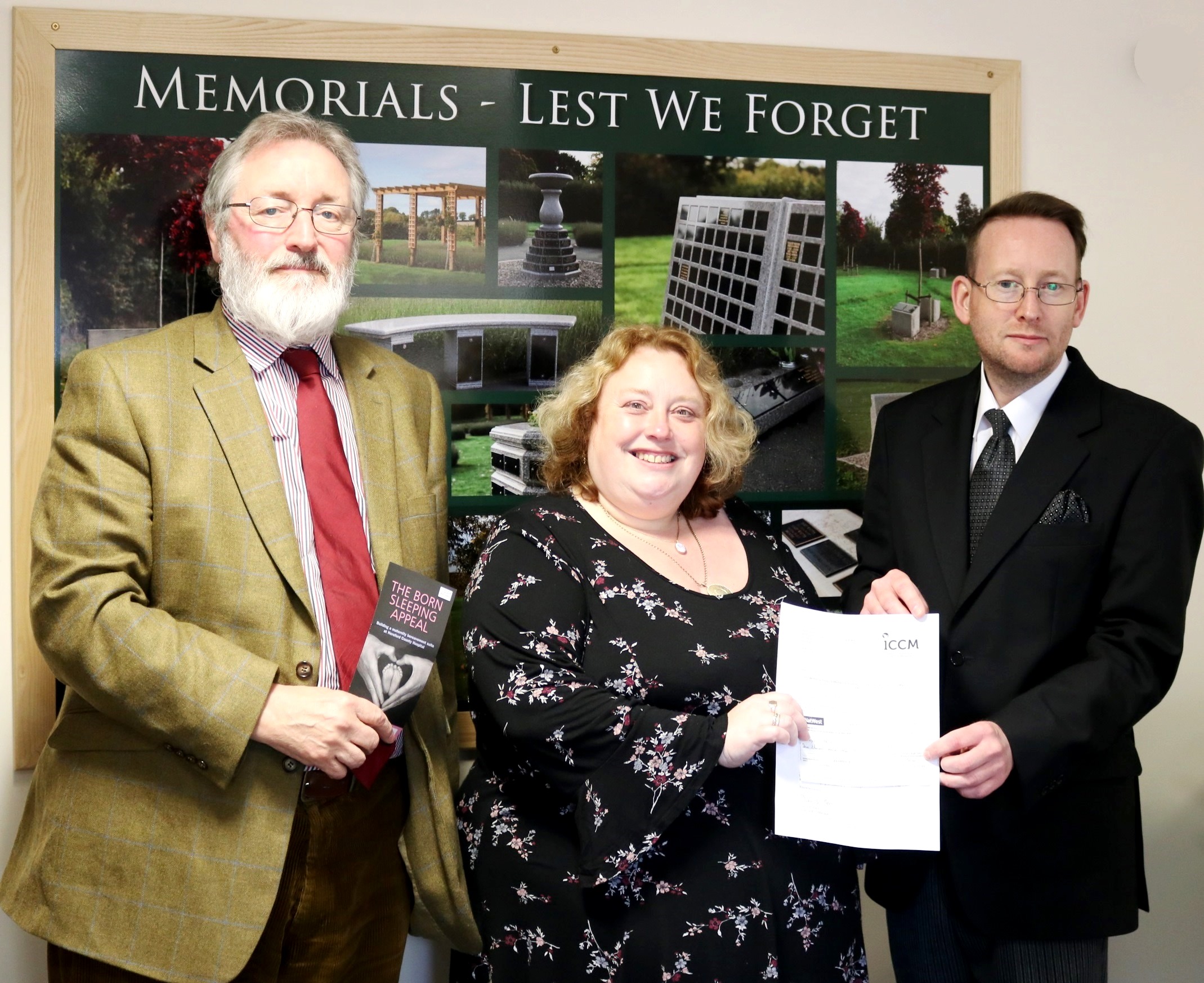 l-r Councillor Barry Durkin, Heatherjane Coombs (Welsh Network Co-ordinator at Sands), Lee James from Hereford Crematorium
Hereford Crematorium has donated £5,000 to Sands (the stillbirth and neonatal death charity) in support of the 'Born Sleeping' appeal, through the Institute of Cemetery and Crematorium Management's (ICCM) Metal Recycling Scheme.
Sands is a UK charity which provides support to families affected by the death of a baby, and locally Sands is supporting Hereford County Hospital's 'Born Sleeping' appeal. The aim of the appeal is to raise funds for a maternity bereavement suite at the county hospital which will provide families with a private sanctuary to use as they come to terms with the loss of their baby. The vision consists of three rooms; a delivery room, an en-suite family room to allow partners to stay overnight and other family members to visit in a private setting, and a room for counselling.
Heatherjane Coombs, Welsh Network Co-ordinator at Sands, said:
"Sands is extremely grateful to Hereford Crematorium for making this donation through the ICCM Metal Recycling Scheme. This contribution will help to fund the furnishing of a bereavement suite at the county hospital, which will make a huge difference to parents, giving them more time to say goodbye and create memories with their babies."
ICCM launched their metal recycling scheme in 2005 as a way to recycle metal recovered from cremated remains instead of burying them into the ground. The recycling of metals salvaged from cremation is only carried out with the written consent of each bereaved family.
Councillor Barry Durkin, Herefordshire Council Cabinet Member for Transport and Regulatory Services, said:
"We recognise the commitment of Herefordshire Council's crematorium staff who continue to donate to the local community through the environmentally-friendly ICCM Metal Recycling Scheme. This donation of £5,000 will support the great work that Sands provides to the county in supporting families through their difficult time. Hereford Crematorium has so far donated £56,624 through the metal recycling scheme, and we are grateful and mindful of the unselfishness of bereaved families following the cremation of their loved ones."
Many charities across Herefordshire have now received donations through the ICCM Metal Recycling Scheme: Cruse Bereavement Care, Macmillan Cancer Support, The Haven, Marie Curie Cancer Care, St Michael's Hospice, Home Start, Phoenix Bereavement Support Services, Winston's Wish, the ELY memorial fund and Rocky Lee's Little Feet.
For more information about Sands, or to make a donation, please visit www.sands.org.uk