A market of international traders selling top quality artisan-produced foods and craft products from around the world will visit Hereford in April.
Flavours of the World, made up of 20-30 carefully selected stalls, will be in Hereford High Town, Friday 27 – Sunday 29 April, 9am – 5.30pm.
Touring different themed markets in the UK annually for over a decade, Savoir Fayre's latest market, Flavours of the World is crafted to stir the senses and appeal to locals and tourists alike. The organisers have worked hard to create an international atmosphere so people can enjoy exotic flavours and unusual aromas and delight in products they might not otherwise see or buy every day.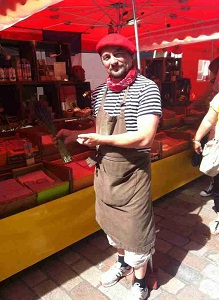 The range for Hereford includes stalls selling Italian sweets and biscuits and delicate nougats; unusual cheeses not easily found in the UK which reflect the cultural and culinary traditions of rural France, and a stall which sells cured meats and scrumptious rustic saucisson sourced from every corner of Europe. There are also specialist stalls offering an unrivalled choice of ground coffee and mustards.
Beyond the stalls that tempt the taste buds, the market has traders who showcase the beauty of international craft traditions. They include bowls and ornaments carved from Moroccan marble; Baltic amber set into handcrafted jewellery; finely woven Italian clothing; and rugs and throws from Morocco and Turkey. One stall sells an astonishing 60 varieties of beauty bars and natural soaps derived from olive and argan oil.
Councillor Barry Durkin, Herefordshire Council Cabinet Member for Transport and Regulatory Services, said: "We are delighted to welcome back a continental market to Hereford High Town. The wonderful range of artisanal foods and beautiful crafted items is great news for the vibrancy and diversity of Hereford."
Published: Monday, 23rd April 2018