New measures to curb dog fouling and prevent problems with out of control dogs across Herefordshire came into force on 27 March 2018.
The Public Space Protection Order (PSPO) for dog control, which has replaced the previous dog control orders, gives council enforcement officers and police officers powers to deal with dog owners who fail to properly control or clean up after their dogs in public open spaces.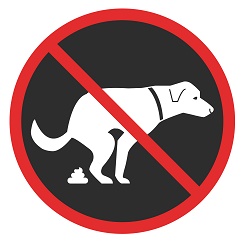 Measures include offences requiring dog owners and walkers to:
Clear up after their dog
Keep their dog on a lead in some areas
Put their dog on a lead when asked to
Keep dogs out of some areas
People with assistance dogs are exempt from this PSPO.
Responses received during a consultation period last year show support for the rules contained in the order.
Councillor Durkin, Cabinet Member for Transport and Regulatory Services, said: "The majority of dog owners are responsible and keep their dogs under control and clean up after them, this order will allow action to be taken against the minority who do not''.
Herefordshire Council asks members of the public to report incidents of dog fouling so that appropriate action can be taken.
Details of the public spaces protection order for dog control