Local businesses can now benefit from superfast broadband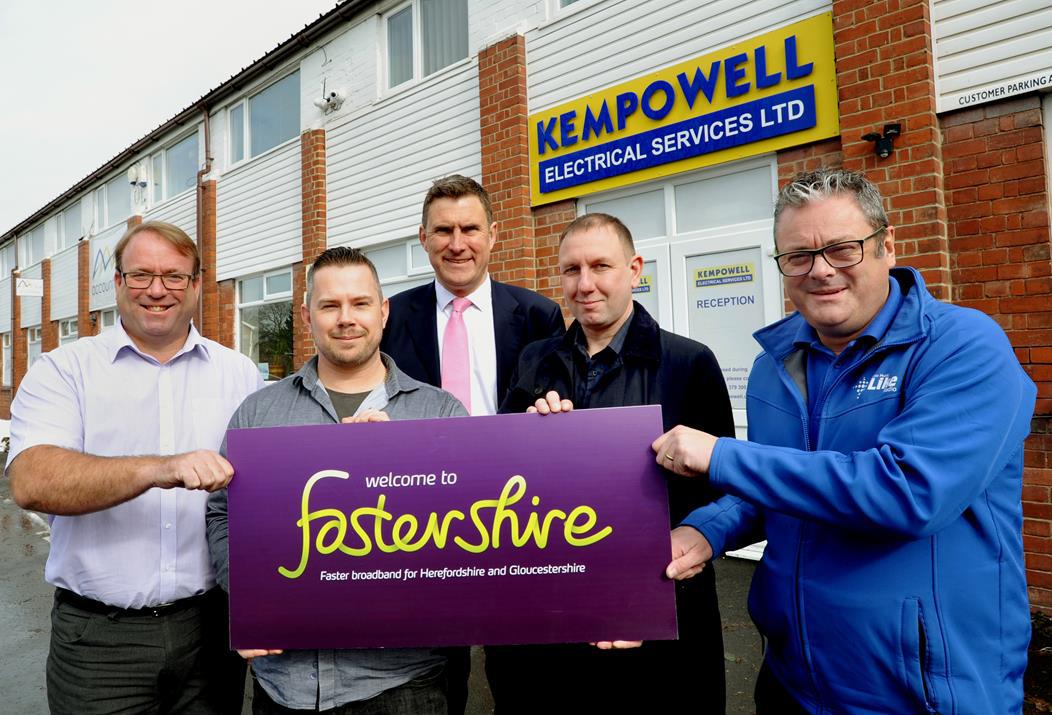 KemPowell, Acre Accountancy, Munday Taylor Lamont and Like Radio have become the first businesses in Herefordshire to benefit from a grant, funded by the European Regional Development Fund and Fastershire, to enable them to access superfast broadband.
They are also the first "combined solution" provided by the grant, where businesses come together and pool their resources to solve a common problem. These solutions not only come at a lower cost to the individual businesses, they also normally provide a much better service to future-proof the businesses involved.
The businesses have selected Redline as their supplier and now have access to a dedicated service of 100 Mbps both for download and upload, where before speeds only reached a maximum of 4 Mbps download and 0.5 Mbps upload.
Mark Powell from KemPowell, said:
"Kempowell Electrical Services Ltd applied for the service via Fastershire due to fast broadband not being available on Foley trading estate. Previously, it was difficult to receive, open or send large files, which is a critical requirement of our business for activities such as viewing drawings etc. This resulted in us sub-contracting works out, such as design and CAD works to other parts of the UK and sometimes abroad.

"Now we have fast broadband we can bring back all works in-house, which has already resulted in us employing a new member of the projects team. We can now be more efficient, productive and provide clients with the service required. We can also continue to grow which will only help the local economy."
Robin Mason, Director of Acre Accountancy Limited, said:
"With the trend towards cloud-based software, we needed to improve our broadband speed access. The opportunity to have a dedicated line has enabled us to future-proof our business."
Ian Davies from Like Radio said:
"The faster broadband is enabling the business to provide new job opportunities within the area. We are currently recruiting for a number of sales roles based from our office in Hereford. This service has enabled us to move the station into the cloud and be one of the most advanced radio stations in the country. We applied for the service due to the lack of availability of superfast broadband in the area."
Alex Simmonds, Group Key Account Manager from Redline, said:
"Redline Telecom have provided three business with a 100/100mbps fibre Ethernet Direct Internet Access circuit though the Marches & Gloucestershire Business Broadband Grant Scheme and we are currently in the process of adding a fourth business to the shared initiative.

"Redline initially assessed the various client's needs in order to determine what capabilities they needed from their broadband connection, what the day to day operations and number of users would be like and also what their future requirements were moving forward which enabled us to help determine the most suitable connection for them for not only now but to also grow into in the future. We're looking forward to helping more customers improve their businesses connectivity throughout the scheme which seems to be having a hugely positive impact."
Councillor David Harlow, Herefordshire Council Cabinet Member for Economy and Communications, said:
"Is it great to see these businesses coming together to benefit from the grant and funding a bespoke connection based on their specific needs. It also reinforces our commitment to delivering faster broadband across Herefordshire."

"We know that faster broadband is vital for our local businesses to grow and compete on a larger scale, and through this grant we hope more businesses will get access to the connectivity they need."
The Marches and Gloucestershire broadband grant gives eligible small businesses up to £25k to fund the installation of a superfast broadband connection.
If you run a business which cannot access speeds of over 30Mbps, and you are not already part of any current superfast broadband rollout plans, then you could be eligible for a grant.
Businesses wishing to see if they are eligible can visit www.fastershire.com and input their address details in the checker.
Registering for the grant is a simple and easy process through a dedicated portal, but all applications for the grant must be completed before December 2018.
Businesses can also benefit from the Faster Business programme run by Fastershire and get access to a FREE business review by a Business Adviser. The review will help identify ways that IT can help businesses grow or reduce costs by saving time and money www.fastershire.com/faster-business.

Issued on behalf of Fastershire.

Image: (Left - Right) Russell Spencer (Acre Accountancy), Daniel Munday (Munday Taylor Lamont), Councillor David Harlow (Herefordshire Council), Mark Powell (Kempowell) and Ian Davies (Like Radio).
Published: Friday, 23rd March 2018