The Community Champion Awards represent everything that is good about Herefordshire's selfless community
Herefordshire has a lot to be proud about today, following the announcement of the 2018 Community Champion Award winners.
The Community Champion Awards, hosted in partnership with Cargill, was established by Councillor Brian Wilcox, Chairman of Herefordshire Council, to recognise the exceptional community contributions made by individuals and groups across the county.
The awards ceremony, held on Friday 16 March at Hereford Town Hall, was a celebration of the time and commitment made to local communities by thirteen Herefordshire residents and five local groups. All finalists were invited to a formal dinner and The Dowager Countess of Darnley, Her Majesty's Lord Lieutenant for Herefordshire, presented the winners with £500, a personalised trophy and certificate – all made possible by Cargill's support.
Councillor Brian Wilcox, award judge and Chairman of Herefordshire Council, said "The Community Champion Awards celebrates the marvellous voluntary work that so many selfless people do for their local communities. There was a 50% increase in nominations this year and judging the selections was harder than ever. Our finalists represent everything that is good about Herefordshire's supportive community, but there are many other nominees who could have been finalists as well. Thank you to everyone who selflessly helps others and their communities - these people and groups are the backbone of our communities and we are privileged to have them in our county."
The 2018 Community Champion Award winners are:
Youth Champions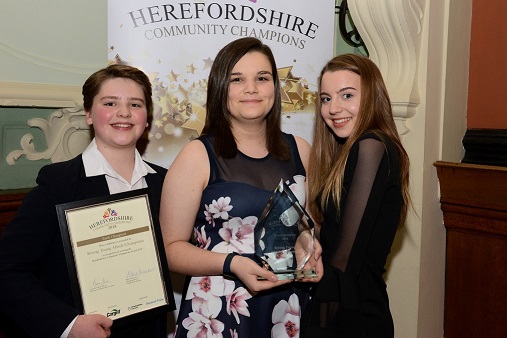 The Strong Young Minds Champions are a vibrant, active and formidable group of young people from across Herefordshire. Following their own personal experiences of mental health issues, they have made it their mission to raise awareness of youth mental health, to reduce stigma and to make it easier for young people to ask for help and support.
Volunteer Champions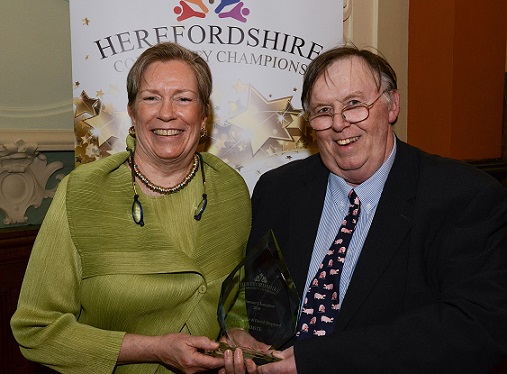 David Sheppard and Karen Usher are representing the NMiTE volunteer team – the team behind the county's new university. David kicked off the project in 2009 with the aim of enhancing the economy of Herefordshire and he believed that a university would be a great vehicle to do this. Now in early 2018, they have secured support from across the community, over £23m government funding, and the tenacity and resilience of David and Karen has led to the success of the university which will see the first students arrive in September 2018.
Environment Champion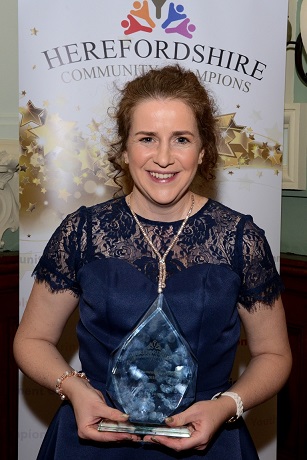 Emma Jones set up the Hereford Community Clean Up (HCCU) group via facebook last August. The group now has almost 1,000 members and has organized over 30 litter picks. The litter picks often spill over into weeding and clearing brooks and streams, in an attempt to make Hereford City a more attractive environment. Emma is passionate about cleaning up Hereford and her passion is infectious as evidenced by the numbers of people who turn out each week to help clean up Hereford!
Caring Champion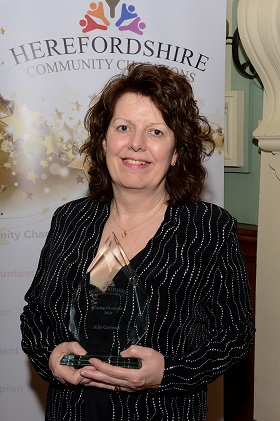 Julie Cartmell has volunteered for Herefordshire Samaritans for 25 years, providing confidential and emotional support to people in desperate need or at risk of suicide. Those who reach out to Samaritans are often in financial distress, suffering a failed relationship, abuse, bereavement or job loss. They may feel isolated or cut off from loved ones due to illness or lack of mobility. Julie's skill is to handle each call sensitively and without judgment, showing great patience and empathy.
Community Champion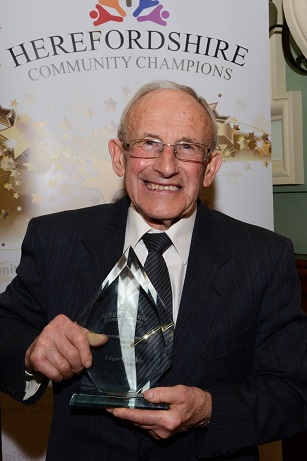 Edgar Whiteley's commitment to Bromyard spans a lifetime. You may have seen him celebrating his 80th birthday up a ladder switching on the Bromyard Christmas lights! You can find him in town leading litter picks with children, selling poppies for the Royal British Legion or handing out the hymn books at St Peter's Church on a Sunday morning. A former President and Chairman of Bromyard Town Football Club he was instrumental in developing the facilities of the club and more recently became the Chairman of Bromyard Football Club, a community club for junior players. He is known to the people of Bromyard, young and old alike, for his public spiritedness and generosity with his time.
Published: Monday, 19th March 2018