Construction of the Southern Link Road is due in early 2019.
Progress on the new Southern Link Road, the next phase of the Hereford Bypass, moves a step closer as Herefordshire Council today makes Southern Link Road Compulsory Purchase Orders (CPO) and Side Road Orders (SRO).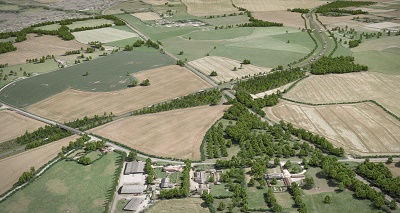 The land required for the construction of the road is mainly agricultural land with no homes or buildings being acquired to deliver the scheme. The council is working with all landowners to try and reach agreement for the acquisition of land and has already agreed terms with a number of landowners to purchase their land.
All affected parties will be served with an order to acquire the land necessary for the delivery of the Southern Link Road scheme, which sets out how side roads and access will be affected by the new road. A CPO is needed to give the Council certainty that it can assemble all the land it needs if agreement cannot be reached.
Councillor Philip Price, cabinet member infrastructure said:

"Although negotiations with landowners have progressed well and will continue, it will be necessary for the CPOs and SROs to be made to ensure the scheme progresses in line with our programme and our funding partners' guidelines.

The Southern Link Road marks the first phase of the Hereford Bypass and is a key piece of infrastructure to promote growth and enable us to introduce active travel measures in the South Wye area."
Subject to confirmation that the land has been secured, construction of the Southern Link Road is expected to commence in early 2019.
The published notices will provide information on how the road will impact on those affected, how they can object and the closing date for objections.
View full details of the CPO and the SRO. They will also be available for viewing during normal office hours at Hereford Customer Services Centre, Blueschool House, Blueschool Street, Hereford HR12LX
Published: Friday, 9th March 2018