Herefordshire Council will this month host two events to celebrate the county's links with the Commonwealth.
Herefordshire Council will this month host two events to celebrate the county's links with the Commonwealth.
These events are joined by the same theme: Towards a Common Future. Building upon the 2017 theme of A Peace-Building Commonwealth, this years theme explores how the Commonwealth can address global challenges and work to create a better future for all citizens through sub-themes of sustainability, safety, prosperity and fairness, in line with the theme of the 2018 Commonwealth Heads of Government Meeting in London in mid-April.
Flag raising ceremony, 12 March
Local authorities have been invited to join together in a simultaneous flag raising. Her Majesty's Lord Lieutenant for Herefordshire along with the Chairman of Herefordshire Council will be hosting the Commonwealth Flag Raising Ceremony at 10am on Monday 12 March outside the Shire Hall in Hereford.
Civic Service, 18 March
A Civic Service to celebrate the Commonwealth will begin at 3.30pm at Hereford Cathedral. The main address will be given by the High Commissioner of Barbados, Guy Hewitt, along with readings from citizens from across the Commonwealth.
Councillor Brian Wilcox, Chairman of Herefordshire Council, said:
"With 2.5 billion people living in Commonwealth countries, their Leaders are committed to work together to aim for influencing good in the world. Member countries share the same ideals for our future, and the Commonwealth Summit in April in London will see all the Leaders of the Commonwealth discussing how to further those ideals for the greater good.

I am delighted to be able to add our voices to those of people from the fifty-two nations around the world which embrace the aspirations and ideals that are set out in the commonwealth Charter. Together, we will work towards a common future which is founded on global sustainability, safety, prosperity and fairness for everyone."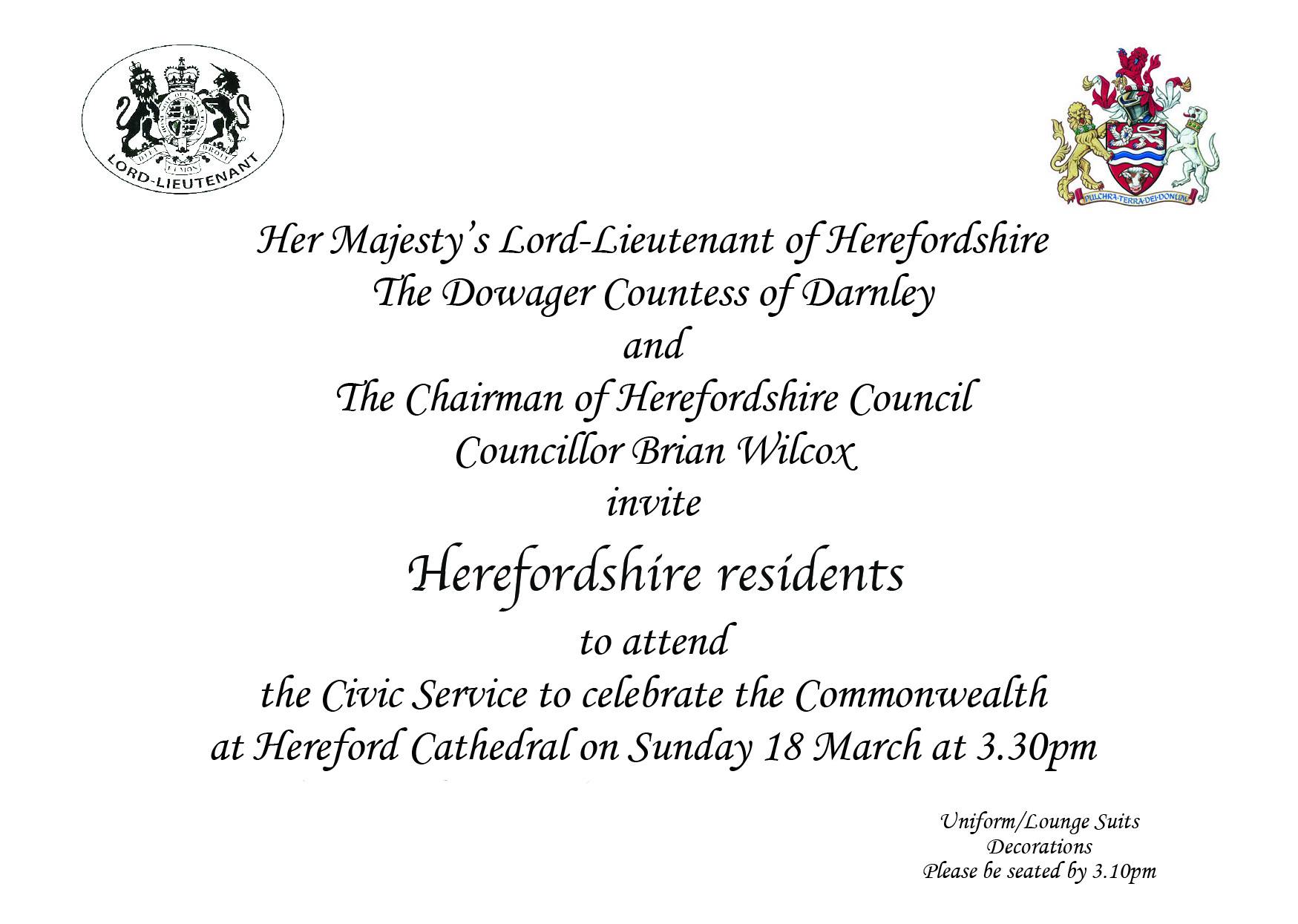 The Secretary-General of the Commonwealth of Nations, The Right Honourable Patricia Scotland QC, said: "Fly a Flag is a wonderful opportunity for local communities to come together to celebrate the remarkable diversity and inclusiveness of the Commonwealth, and the many ways in which the lives and livelihoods of its 2.4 billion citizens are enriched through Commonwealth connection and cooperation. By working together locally and globally we learn from one another, and make progress for the good of all."
The Fly a Flag for the Commonwealth initiative, now in its fourth year, is again catching the imagination of thousands of participants from all walks of life, inspiring them to join with others throughout the Commonwealth. As a collective public expression of commitment to the Commonwealth, it enables participants to show appreciation for the values the Commonwealth upholds, and the opportunities offered for friendship and cooperation with fellow Commonwealth young and old citizens around the world.
Information is also available on Facebook.
Published: Tuesday, 6th March 2018