Herefordshire Council operates a Severe Weather Emergency Protocol, which provides rough sleepers with accommodation and support during periods of exceptionally cold weather
The Severe Weather Emergency Protocol (SWEP) applies when the temperature is forecast to drop to zero degrees or below for three consecutive nights. The Hereford night shelter assists the council, as part of the protocol.
The night shelter is available at St Peter's Church in Hereford (St Peter's Square, next to The Shirehall) until 11 March and offers a safe alternative to rough sleeping for up to 16 men and 3 women each night from 9pm to 8am. The council makes a small financial contribution to the shelter's running costs each year and works closely with the service. The council's rough sleeping outreach worker visits the shelter every weekday morning, specifically to engage with every rough sleeper who has stayed the night. The shelter is run every winter by St Peter's and St James' Church House and last year, it helped 65 people (58 men and 7 women).
There are also a number of organisations across Hereford city centre, which provide hot food and drinks throughout the day, for homeless people and those who feel vulnerable or isolated. Open Door at St Peter's Church not only provide cooked breakfasts and packed lunches, it also offers shower facilities during the breakfast period, along with shower gel, soap and disposable razors. There's also a washing machine that can be used and clothing, boots and other essential items are offered to whomever needs them. You can see all the information available in the table below.
The timetable for hot food availability in Hereford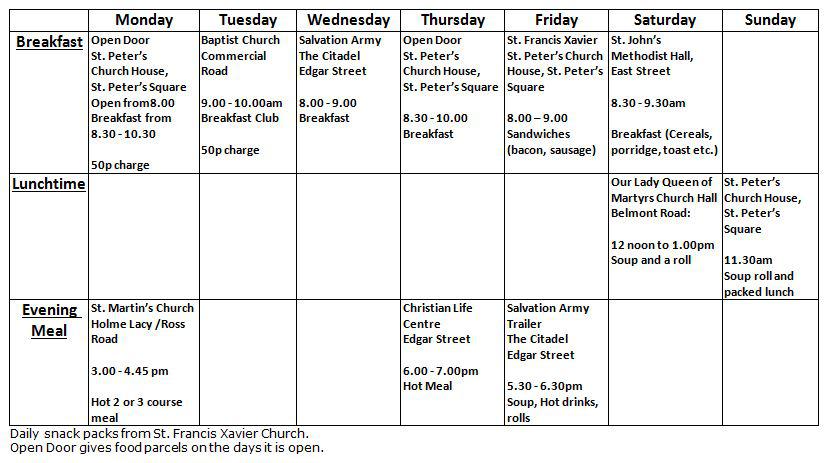 Published: Friday, 2nd March 2018