Met Office predicts worsening weather overnight in Herefordshire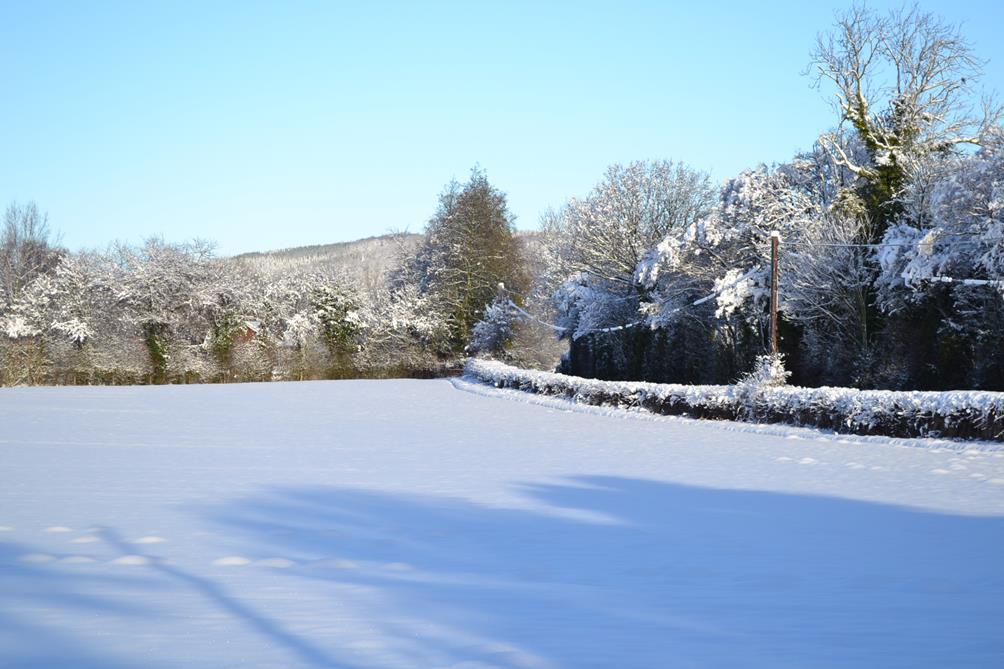 The Met Office has issued an amber weather warning for Herefordshire with significant snow expected across the county.
It is predicted that whilst the snow has remained light today, it will get a lot heavier as we head into this evening, along with strengthening, strong winds. The Met Office is forecasting up to 30cm of snow across Wales and into Herefordshire, with the strong winds causing drifts in places.
The daytime temperatures aren't predicted to rise above freezing across the county, although with the wind chill factor, it may feel more like minus 10.
Partner organisations from across Herefordshire and the West Midlands are working together to focus resources on keeping residents safe and to help the county cope with the storm conditions.
Travelling
The snow is likely to affect both rural and main roads across the county and whilst the council's partner Balfour Beatty Living Places is gritting priority routes (there have been three treatments already today), the plummeting temperatures and continuing snow will make it harder to keep roads clear.
The priority over the next 24 hours is to try and keep priority routes accessible, however residents are advised to avoid unnecessary journeys where possible, as the grit will be less effective in the colder temperatures and there's likely to be black ice.
West Mercia Police is advising residents who do have to travel to plan ahead and to allow extra time in the adverse weather conditions. If you're travelling by car, make sure your fuel, screen wash and anti-freeze levels are topped up and you take warm clothes with you.
School transport and closures
The council has cancelled all school and college transport tomorrow (Friday 2 March). This decision, following discussion with local emergency services, is to ensure the safety of children and transport providers. The weather conditions will be monitored to ascertain if the service will be back to normal for Monday 5 March.
It is up to each individual school as to whether or not they remain open, so keep checking your school's website and social media accounts for updates. There's a full list of all the latest school closures on our website at www.herefordshire.gov.uk/severeweather.
Health advice
Herefordshire Clinical Commissioning Group is advising residents not to travel for medical appointments, unless they're essential. If you need health advice, please call NHS 111 in the first instance.
Please look out for vulnerable neighbours and relatives who may be struggling during the cold conditions, especially if they have heart or breathing problems. Make sure they're safe and well, they're warm enough (especially at night) and have plenty of food and medicines, so they don't need to go out unnecessarily.
Bin collections and household recycling centres
The council suspended all rubbish and recycling collections from 12pm today (Thursday 1 March) until further notice, due to the deteriorating weather conditions.
If your collection didn't take place, please take your waste back in and put it out again on your next scheduled collection in two weeks' time. If your rubbish wasn't collected, we'll take additional rubbish up to a maximum of four black bags, whilst for uncollected recycling, please use clear or transparent bags labelled 'recycling'. Please don't use black bags for recycling.
The county's household recycling centres are also closed and they're not due to re-open until the weather conditions improve.
Additional information
The latest gritting route information can be found on Twitter @HfdsStreets.
To keep up to date with the latest information about affected council services, including bin collections, road and school closures, visit www.herefordshire.gov.uk/severeweather.
There's also a range of useful information available on the NHS Choices website for keeping warm and well.
Published: Thursday, 1st March 2018