Keep up to date with the latest news from Herefordshire Council for the predicted severe weather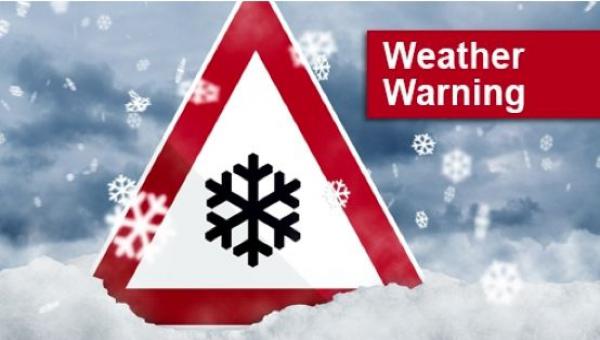 Live updates on the impact of any severe weather conditions for March 1 will be posted here as we get them.
19:00
Busy Bees of Ledbury
Unfortunately, due to the snowfall which is forecast to continue all night and during tomorrow, Busy Bees will be closed tomorrow www.busybeespreschool-lps.co.uk
---
16:00
Herefordshire Household Recycling Centres
All Herefordshire Household Recycling Centres are now closed due to the severe weather we are experiencing. It is anticipated that our Household Recycling Centres will not reopen until weather conditions improve. Thank you for your understanding.
---
School transport suspended for Friday March 2
Due to the current Met Office amber weather warning for Herefordshire and the worsening weather conditions forecast, ALL school and college transport services are suspended for Friday March 2
This decision has not been taken lightly, but in full discussion with local emergency services, to ensure the safety of children and transport providers. The conditions will be monitored to clarify whether services will resume for Monday March 5. Please also check latest school closures
---
14:00
Libraries
Bromyard Library will be closing today at 2pm
13:50
Libraries - closing early
Leintwardine will be open 2pm to 3pm.
Weobley will be open 3pm to 4.30pm.
---
13:45
Rubbish and recycling
Due to deteriorating weather conditions, all rubbish and recycling collections have been suspended from midday on Thursday 1st March.
If you have not had your collection, please take your waste back in and place out on your next scheduled collection for that waste in 2 weeks time. If your rubbish was not collected we will take additional rubbish up to a maximum of 4 black sacks. If your recycling was not collected and you have extra please use clear or transparent sacks and label 'RECYCLING.' Please do not use black sacks for your recycling.
Trade Waste customers – If your collection has not been made attempts will be made during week commencing 5th March to provide you with a return collection.
---
10:25
Libraries
Peterchurch Library is not open today ( 11-1 and 3 to 5)
10:00
Public Transport
79B Hereford - Redhill - Hereford Yeomans Travel Unable to serve Stanberrow Road. Buses terminating at Marlbrook Road.
Updates on Public transport page
09:25
Public Transport
Services not running due to adverse weather
31 Whitchurch – Llangrove – Ross-on-Wye George Youngs Coaches
459 Ledbury – Much Marcle – Ross-on-Wye George Youngs Coaches
09:00
Lady Hawkins School closed today
Robert Owen Academy- closed from 12pm today
07:00
School closure and transport updates
We have several school closures today as well as some schools closing early and several school transport updates - please check the webpage
---
07:00
Rubbish and Recycling
Due to the predicted severe weather for Thursday and Friday there may be disruption to rubbish and recycling services – please put your bin out for collection as normal and follow any updates on this live blog or the rubbish and recycling collection pages Many thanks for your patience
In the meantime do check the following pages which will also provide information on any disruption caused by any severe weather.
Thank you, stay safe and look out for the safety of others in the expected cold weather.
Information animation from Public Health England on what cold weather does to our health, what we can do to protect our friends and families from its effects and what we can do to help those who may feel the effects more than others.
Published: Thursday, 1st March 2018