'The Beast from the East' is here, and Herefordshire Council has a series of measures in place to minimise disruption, and help the county brave the icy conditions.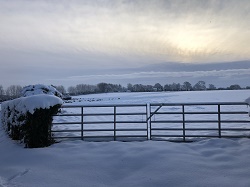 Looking after our vulnerable adults, children and young people
The council works closely with social care providers to ensure they have plans in place for severe weather, both residential care homes and those providing home care. Our social workers can also refer people with eligible needs to the Home First service, which is our in-house reablement service.
We support local foodbanks and homeless shelters through our Local Welfare Provision (LWP) service, delivered by the Housing Solutions team. The team works with rough sleepers to help them find accommodation and support during periods of exceptionally cold weather.
School closures
Maintained schools throughout the county have a well-rehearsed process when considering whether to remain open during severe weather conditions. In the event of a school closure, schools make sure information is available to pupils, parents and carers. The latest school closure information will be available to view at www.herefordshire.gov.uk/severeweather
Roads and travel
Over the past 24 hours the council's public realm contractor, Balfour Beatty Living Places, has gritted over 1,000 miles of road. This includes 600 miles of priority routes and over 400 miles of secondary routes (including pavements).
The county's salt barns are fully stocked with 3,274 tonnes of salt* available to the 30-strong gritting team, which operates 16 frontline gritting vehicles, four snow blowers and two quad bikes, all on stand-by 24/7 to treat the county's routes.
However, weather conditions can change quickly. All routes can become treacherous, even once they have been salted, and drivers are advised to take extra care on the roads and not to make any unnecessary journeys.
Leader of Herefordshire Council, Councillor Tony Johnson, said: "Severe weather conditions are forecast for our county this week, and we would like to reassure residents and businesses across Herefordshire that the support and services we provide have the resilience to weather the storm.

"We have systems and safeguards in place to ensure that we can continue to provide vital support for vulnerable adults and children no matter the weather conditions. We are also working with our partners Balfour Beatty Living Places to deliver thousands of tonnes of salt to the county's highways and help keep Herefordshire moving in spite of the conditions.

"Even after great effort has been put into minimising disruption, it is important never to be complacent. Whether at school or work, on the roads or in your home, we encourage residents to take extra care, keep warm and be safe."
The latest gritting route information can be found on Twitter @HfdsStreets
The latest information about Herefordshire Council services affected by severe weather, such as road and school closures, can be found at www.herefordshire.gov.uk/severeweather
There is also a list of top tips to prepare and cope during the cold weather from Public Health England.
Published: Wednesday, 28th February 2018