The Commonwealth has made a huge contribution to the life of our nation in both peacetime and war.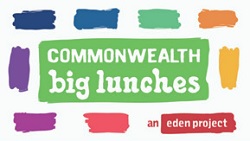 This year the venue is London for the Heads of Government Commonwealth Meeting which HM the Queen will be attending, the Commonwealth Games are taking place at the beginning of April in Australia and we are all invited to be part of the worldwide celebrations by hosting Commonwealth Big Lunches.
Join in with Herefordshire and hold a family meal, picnic, street party or formal luncheon. Millions of people across the globe will be joining you, holding their lunches and celebrating their Commonwealth connections.
Her Majesty's Lord-Lieutenant of Herefordshire, The Dowager Countess of Darnley said:
"Her Majesty The Queen has been head of the Commonwealth throughout her 60 year reign, reinforcing the links by which the Commonwealth joins people together from around the world. It's fitting that the Commonwealth Big Lunches are becoming a regular celebration of everything good represented by the Commonwealth. I am sure Herefordshire will enjoy being part of that celebration."
Register now to receive your free pack with everything you need to help you plan a Commonwealth Big Lunch in your community, including recipes www.commonwealthbiglunches.com
To share your plans, if your lunch is open to the public, please email
You can also share and promote your event across social media using the hashtag #CommonwealthBigLunch
Published: Monday, 12th February 2018