The new Stop the Drop Litter Pledge campaign has been launched today at Herefordshire Litter Forum.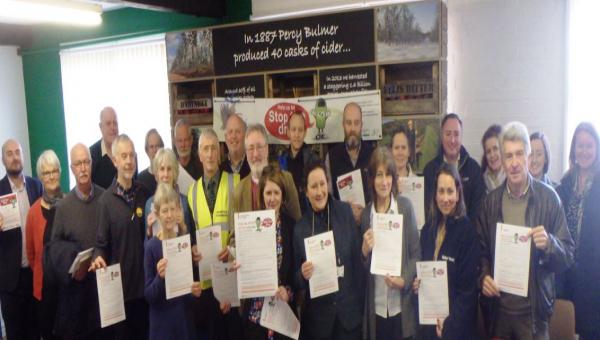 The Litter Forum, organised by volunteer litter groups and Herefordshire Council, brought together over 40 pro-active litter picking groups, businesses and organisations committed to working together to tackle litter in Herefordshire.
The aim of the campaign is to encourage individuals, community groups, businesses, schools and organisations to sign up to the Pledge and to commit to taking part in organising litter picks in their communities; with businesses keeping car parks and areas around their premises free of litter.
The goal is to have 100 Pledges by the start of the national Great British Spring Clean campaign on 2 March.
Councillor Durkin, Cabinet Member Transport and Regulatory Services, said:
"The current momentum to 'clean-up Herefordshire' is fantastic and seeing so many people involved reassures us that local residents care deeply about living in a clean and healthy environment. I hope the launch of the Stop the Drop Litter Pledge will encourage more people, communities, schools and businesses to get involved and play their part in ensuring that Herefordshire becomes litter free."
Emma Jones, of Hereford Community Clean Up Group, said:
"It's fantastic to see so many people coming together with the common goal of getting Herefordshire litter free. The Litter Pledge is a great campaign aimed at encouraging all Herefordshire residents to do their bit by looking after their neighbourhoods, or even just the area in front of their homes."
To learn more about the Stop the Drop Campaign and to sign up to the Stop the Drop Pledge please visit www.herefordshire.gov.uk/stopthedrop or telephone 01432 383449.
For more information on the Great British Spring Clean please visit www.keepbritaintidy.org