Residents are reminded to check for changes to their waste collection over the festive period
Herefordshire Council is reminding residents that there will be changes to some waste collection dates over the festive period.
The changes only affect households with collections due on Christmas Day, Boxing Day and New Year's Day. The revised collection day will be the weekend before, and residents are advised to put their bin out before 6.30am.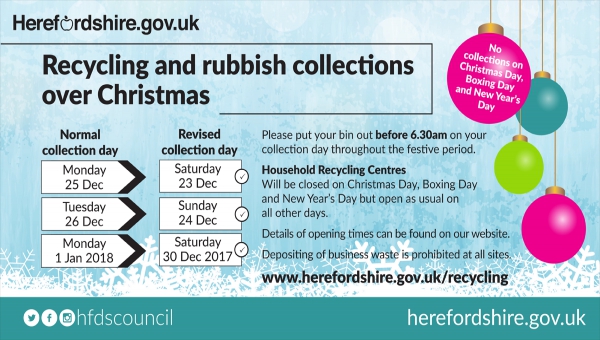 Household Recycling Centres across Herefordshire will be open as usual throughout the festive period (except for Christmas Day, Boxing Day and New Year's Day) where real Christmas trees can be composted with garden waste.
Following last week's severe weather disruption, Herefordshire's waste teams have attempted to return to as many properties as possible. Our collections will continue to follow the usual collection cycle. If a collection did not take place last week, then the following will apply to the next collection of this waste type:
If general rubbish was not collected, our teams can take a maximum of four additional black sacks.
If recycling was not collected, place excess recycling in white or clear bags and mark 'RECYCLING' for collection by our teams.
For more information about what can and cannot be recycled this Christmas, visit www.herefordshire.gov.uk/recycling
Published: Monday, 18th December 2017