Chintana Kirk and Richard Czogolla plead guilty to failing to comply with an anti-social behaviour notice
Herefordshire Council has won an enforcement case against a couple who failed to comply with an anti-social behaviour notice.
Chintana Kirk (60) and Richard Czogalla (67), of Hereford, pleaded guilty to failing to comply with a Community Protection Notice for anti-social behaviour at Hereford Magistrates' Court on Friday 1 December 2017. Both Ms Kirk and Mr Czogalla received a 12 month conditional discharge and costs of £70 and £170 respectively.
Residents began to make complaints about anti-social behaviour in 2005/6, when cars, a boat and other items were dumped in the garden of the property owned by Ms Kirk. Mr Czogalla, who also lived at the property, would use flood lights to repair cars in the street till late at night, causing noise and nuisance. A large trailer was also parked outside the property, and due to the amount of items discarded on the driveway, access to Ms Kirk's front door had to be across a neighbour's driveway.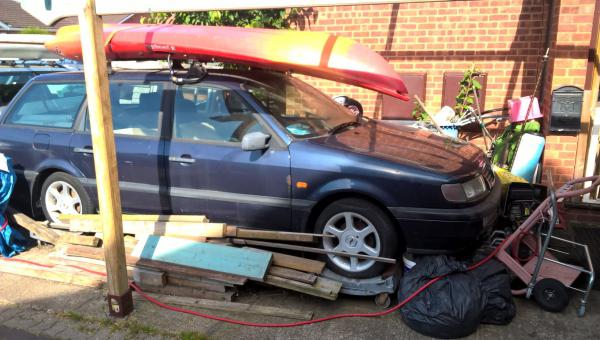 Evidence of anti-social behaviour from Ms Kirk and Mr Czogalla
Herefordshire Council enforcement officers initially issued Ms Kirk and Mr Czogalla with a Community Protection Notice warning, advising the pair to tidy the front garden and drive, to stop repairing cars in the road after 6.30pm and to park their other vehicles considerately. The boat trailer was moved but the remaining anti-social behaviour continued. Following this, formal Community Protection Notices were issued to Ms Kirk and Mr Czogalla which were ignored. Herefordshire Council then proceeded with court action due to non-compliance with the Community Protection Notice.
A Community Protection Notice is issued when a business, organisation or person over the age of 16 commits anti-social behaviour which spoils the community's quality of life. Herefordshire Council will continue to tackle anti-social behaviour where it has a negative impact on or affects the community. Visit www.herefordshire.gov.uk/communitysafety for more information about safer communities.