Health Uncovered podcasts created by young people for young people
A great series of podcasts have been launched today (Monday 27 November) aimed at helping young people to get more in tune with their health and wellbeing.
The free 'Health Uncovered' podcasts feature young people talking about a range of different topics from sexual health, bullying and grooming to substance misuse, mental health and the pressure of social media, supported by professionals who offer additional advice and guidance.
The podcasts are hosted by TV and radio personality, Cel Spellman, who recorded the sessions with young people in five different locations across the UK. The young people talk openly and honestly about their experiences of different health issues, which they say can often be embarrassing, uncomfortable and misunderstood. The easy to listen to sessions only last for 20 minutes and are amusing, revealing, sometimes emotional and often slightly rude!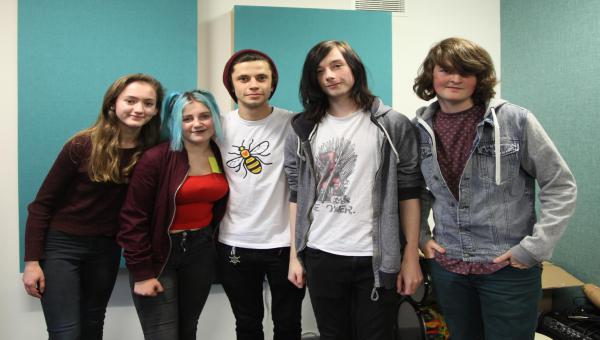 Phoebe, Carey, Cel Spellman, Jordan and James at the Herefordshire mental health podcast recording session.
Four young people from Herefordshire were delighted to take part in recording the fifth podcast in the series, entitled 'Mental health: Are you okay?' The young people were supported by Herefordshire Council's public health team in partnership with The CLD Trust and Wye Valley NHS Trust school nursing service.
Councillor Jonathan Lester, Cabinet member for young people and children's wellbeing, said:
"This is a great initiative to help encourage young people to discuss the different health and wellbeing issues they may be facing in Herefordshire. It is really good that four of our young people were able to participate in the series and have the opportunity to not only work in a recording studio, but also share their own personal experiences with other young people, who may be facing similar issues."
James, who participated in the Herefordshire podcast, said:
"When I was growing up and dealing with mental health issues, I felt trapped, isolated and alone. I wanted to do the podcast, so I can show other young people that they're not alone, there are other people going through it and there's help available, if they need it. Even if I can help just one person, I'll feel like I've achieved something."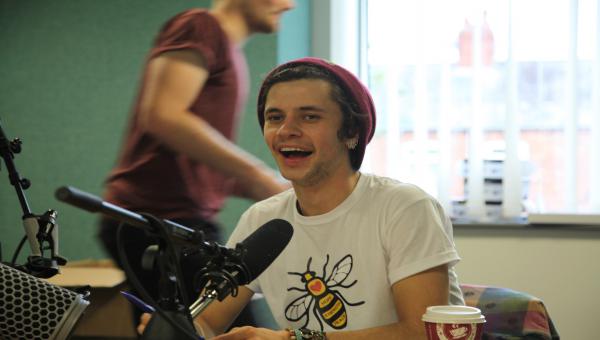 Cel Spellman, TV and radio personality and Health Uncovered podcast presenter
Cel Spellman, who presents the podcasts, said:
"I feel pretty privileged to have heard such touching personal stories. Young people today have to deal with all the classic teenage worries, but they also have the extra challenges that belong uniquely to this digital generation."
Cel is passionate about encouraging young people to ask for help if they have any problems. He has previously spoken about his own challenges of dealing with bullies at school, saying: "I preferred to deal with problems on my own, but there comes a breaking point."
To download one of the ten available podcasts, search for 'Health Uncovered' on Apple iTunes or Stitcher Android. You can also follow the series on Twitter: @HealthUncovNHS and Instagram: @healthuncovered.
If you need advice or support in relation to any of the issues covered on the podcasts, there's lots of local and national help available. Alternatively, you can also speak to your school nurse.