Local pupil wins first prize for her eye catching anti-littering poster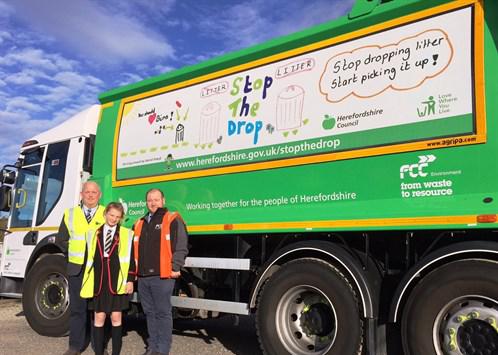 The winning poster from Herefordshire Council's Stop the Drop anti-littering campaign is set to feature on four of the council's waste vehicles.
Harriet Sneyd from Lucton School won first prize for her eye catching anti-littering poster, as part of the council's Stop the Drop campaign which featured posters, animations, raps and videos. The council's waste contractor, FCC Environment, is kindly supporting the campaign by sponsoring the cost of having the poster installed on four of its waste vehicles.
Councillor Paul Rone, Cabinet member for transport and roads, said: "I was delighted with the amazing response we had to our Stop the Drop campaign from schools and colleges across the county. Harriet's winning poster perfectly captured the message we want people to remember, which is simply to 'stop dropping litter, start picking it up'.

"I am grateful to our colleagues at FCC Environment for supporting the campaign and helping us promote the message throughout the county on their waste vehicles."

Paul Morris, contract manager at FCC Environment, said: "As the council's waste contractor, we have a responsibility to ensure the county is clean and tidy and are delighted to support such a worthwhile anti-littering campaign.

"We hope Harriet will enjoy seeing her winning poster being driven around the county for everyone to see."
If you'd like to improve your local area by organising a community litter pick, free litter packs are available to borrow from Balfour Beatty Living Places by calling 01432 261800. They will also arrange to collect the bags of litter from you afterwards.
To find out more about the Stop the Drop campaign, visit www.herefordshire.gov.uk/stopthedrop.