Two Herefordshire businesses awarded for keeping the county's lay-bys clear of litter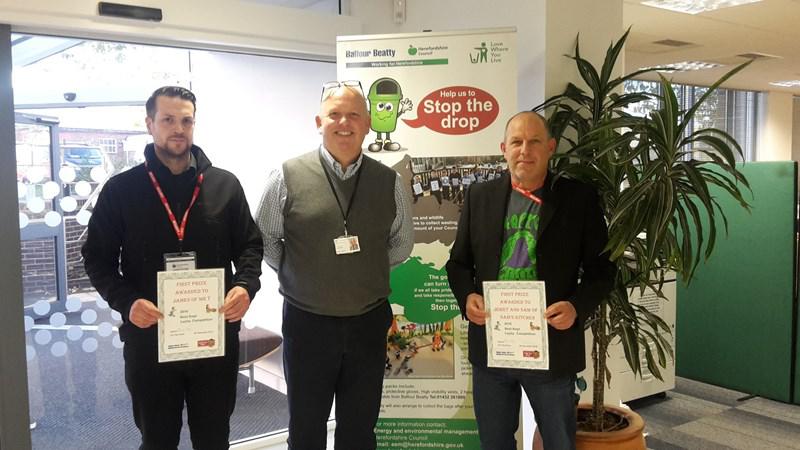 wo Herefordshire businesses have won the council's Stop the Drop Best Kept Layby competition.
Congratulations to Sam's Kitchen on the A4103 near Withington and Mr T's and Coffee on the A465 near Allensmore, which beat off competition from other businesses to win the first Best Kept Layby competition.
As part of the council's Stop the Drop anti-littering campaign, local lay-by businesses were encouraged to continue the valuable job they do to keep the county's lay-bys clear of litter and debris by going one step further and making additional improvements such as creating hanging baskets, cutting the grass, sweeping the lay-by and adopting attractive bunting.
The judging panel, consisting of Councillor Paul Rone, Councillor Charles Nicholls representing Hereford in Bloom and Kim Allwright from Alloy Jewellers, felt the worthy winners did this and more including providing seating, planting flowers and trimming hedges and verges away from the road. The winners will each receive an item of handmade jewellery, generously donated by local Hereford jewellers group, Alloy Jewellers and a one off discount on their street trading licence fee from the council's markets and fairs team.
Councillor Paul Rone, Cabinet member for transport and roads, said: "I am incredibly grateful to the local lay-by businesses which took part in the competition, as the contribution they make is invaluable for keeping our lay-bys clean and tidy. The work they do not only attracts passing business but also protects our wildlife, reduces cleaning costs and keeps our county beautiful."
Congratulations to all the lay-by businesses which participated in the competition, alongside Sam's Kitchen and Mr T's and Coffee: Big Trev on the A49 near Moreton-on-Lugg, Andy Amos on the A438 near Tarrington, Tracey's on the A417 near Newtown Cross and Tracy's on the A465 near Pontrilas.
If you'd like to improve your local area by organising a community litter pick, free litter packs are available to borrow from Balfour Beatty Living Places by calling 01432 261800. They will also arrange to collect the bags of litter from you afterwards.
To find out more about the Stop the Drop campaign, visit www.herefordshire.gov.uk/stopthedrop.