Eligible residents are urged to have a free flu jab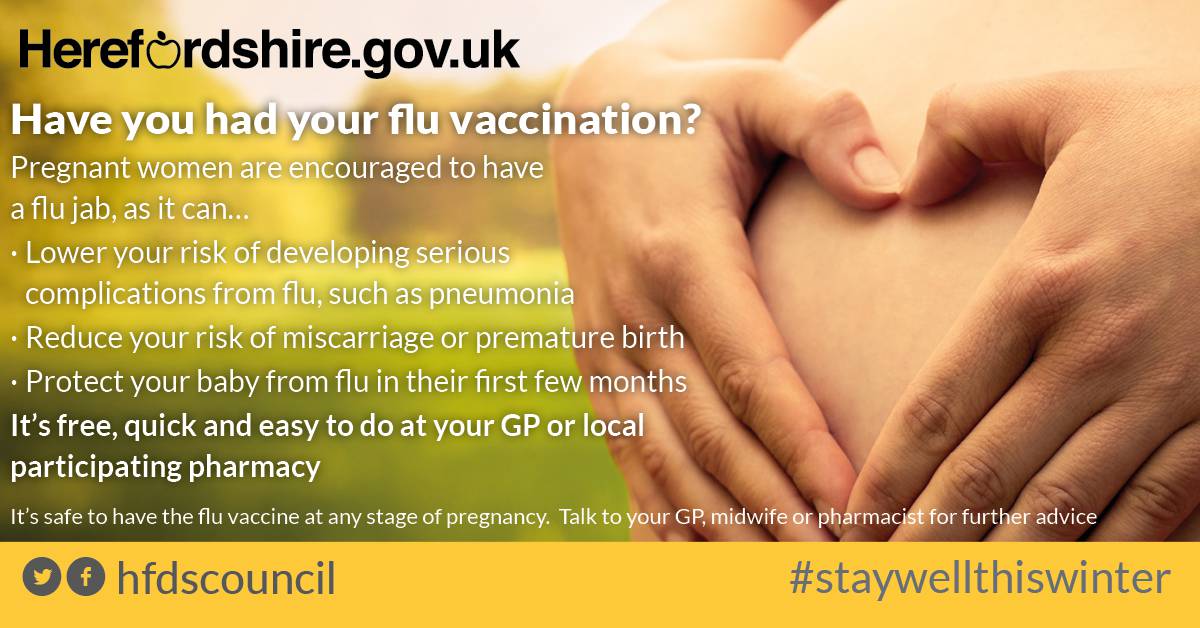 Residents who are most vulnerable to flu are urged to get their free vaccination from today, ahead of the winter period when flu is most common.
Public Health England aims to vaccinate around 13 million people this year, more than ever before. You're eligible for a free flu vaccination, if you're pregnant, aged two, three or four, have a long term health condition, such as diabetes, asthma or Parkinson's, over 65 or look after someone else as their carer.
You're also encouraged to have the vaccination, if you work in the health and social care sector, and your employer will have arrangements in place to provide a free flu vaccine.
Professor Rod Thomson, Director of Public Health for Herefordshire, said: "It's that time of year again, when we're heading towards darker nights, the winter months and flu season. We're encouraging as many people as possible to be vaccinated, especially if they may be more susceptible to flu or if they work closely with those who are.

"The annual one-off vaccination changes every year to fight the latest strains of flu, so even if you had one last year, you'll need another one this year to ensure you're flu safe. It's quick and easy to do at your GP or local participating pharmacy.

"There are many myths surrounding flu and the vaccination, however it's an important and safe way to stay well this winter and protect yourself and those around you. If you'd like to de-bunk some of the myths, take a look at the NHS Choices website at www.nhs.uk and search 'flu myths'.

Dr Arif Mahmood, Herefordshire Council's Consultant in Public Health, said: "We're urging parents and guardians to ensure their children are vaccinated against flu, as not only do their bodies find it difficult to fight the flu virus, but they also tend to spread infection more easily than healthy adults. The vaccine will help to reduce the spread of flu to other more vulnerable family members, such as grandparents.

"Last year's flu vaccination programme reduced the risk of flu in children who received the vaccine by 65.8%, compared to those that didn't.

"If children are worried about the vaccination, it's important to reassure them that there are no needles involved, just a quick and painless nasal spray. NHS Choices has a short animated film available, which might make children feel more comfortable about having the vaccination. Simply visit www.nhs.uk and search 'flu heroes'."
To find out more, visit www.nhs.uk/staywell or alternatively your GP, midwife or pharmacist can provide further advice.
Published: Friday, 13th October 2017