The return of the Breast Cancer Haven's Herefordshire's Last Choir Standing
Calling all choirs – whether you are a school or church choir or a gathering of friends who just love to sing - it's time to start rehearsing for another fantastic Last Choir Standing competition to be held at The Shire Hall, Hereford on 17 November at 7.30pm in aid of Breast Cancer Haven, Hereford.
It was 2012 when the gala evening took place in Herefordshire when the Hereford Soul Choir blew the audience away with its stylish and slick performance under the baton of local superstar Jenny Frost.
The return of the wonderful evening of entertainment and variety will be a night not to be missed. The charity is looking for choirs to enter the competition, a choir can comprise up to 20 members, each choir will be able to perform 2 songs of their choice on stage and receive feedback and adjudication from a panel of judges, and there will be trophies for the winners.
There is only room for 12 choirs on the programme so get your entries in as soon as possible by emailing rose.farrington@breastcancerhaven.org.uk or calling 01432 361 051.
The Chairman, Councillor Brian Wilcox, selects which charity to support during his term of office, and can change it annually if he wishes, his current charity Breast Cancer Haven is a national charity, offering free emotional support; help with symptom control and practical advice to anyone affected by breast cancer from its network of centres, one of which is in Hereford. Everyone is welcomed; whether recently diagnosed, in treatment, or seeking help to lead a healthy life after that treatment has finished.
So get your entries in and get practicing we are looking forward to seeing all the amazing choirs on 17 November! Find out more about the event on the Breast Cancer Haven Facebook page.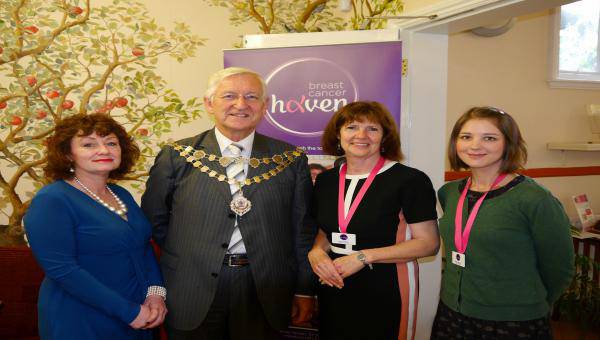 Chairman with the Haven staff