Libraries Week runs from the 9 to 14 October, a celebration of Britain's much-loved libraries. Herefordshire Libraries will be hosting events, activities and exhibitions to celebrate.
During this week there will be a library amnesty, so if you have a book that is long overdue, just bring it in and all the charges will be waived no questions asked. There will be an anonymous drop off point in Hereford Library if you are in a rush.
While you are there if your membership has lapsed, pop in and renew your library card.
From 9 October there will be no overdue book charges for under 18s to encourage children to read more.
Library events during Libraries Week include:
There will be a book lucky dip all week at Hereford, Kington, Ledbury, Leominster and Ross libraries. Pick up a mystery library book and discover something new.
Ledbury Library
Between the Lines - an exciting promenade play at Ledbury Library. Between the Lines explores the characters who lived in and around the Master's House in 1916, getting on with the daily battles of life at home whilst the war rages on the Western Front. Thursday 12, Friday 13, Saturday 14, Thursday 19, Friday 20, Saturday 21 October 8pm – 9pm. Tickets £12 / £6 students available from Ledbury Library or the Market Theatre.
A Good Read? Readers' Group is on Friday 13 October 11am - 12.30pm at Ledbury Library. Bring along a book you've read, share your thoughts and perhaps a short snippet from the book in this friendly and informal readers' group.
Ross Library
At Ross Library there will be Folk Lore and Fairy Tales, an exhibition from Herefordshire Museum that looks at ways in which local people have made sense of the world around them through stories and folklore. Find out how superstitions were used to keep people in their place and how the landscape influenced their lives.
Bounce and Rhyme a free session for babies and toddlers at Ross Library 2.15pm -2.45pm.
Hereford Library
On Wednesday 11 October a group of young people from SHYPP will be having a behind the scenes tour of Hereford Library. This is part of an exciting new Arts Council funded project with SHYPP and Herefordshire Libraries called Space to Engage.
Bounce and Rhyme free sessions for babies and toddlers at Hereford Library Wednesday 11.15am – 11.45am and Thursday 2.15pm – 2.45pm
Leominster Library
Bounce and Rhyme a free session for babies and toddlers at Leominster Library on Tuesday 10.30am – 11am.
Make this a week to reconnect to your local library and discover what they have to offer.
Follow Herefordshire Libraries on Facebook and Twitter
Follow the #librariesweek
Find out more at www.librariesweek.org.uk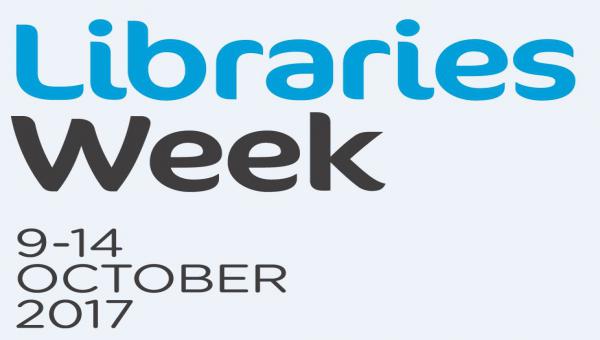 Published: Monday, 25th September 2017