HRH The Duchess of Gloucester meets children and foster carers at Hereford Town Hall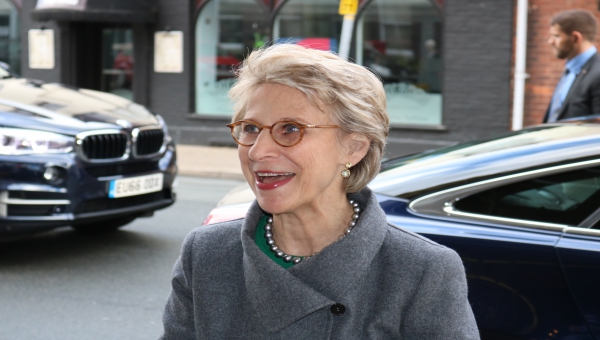 Herefordshire Council's fostering team was delighted to welcome The Duchess of Gloucester to Hereford Town Hall on Thursday 14 September, during a Royal visit to the county.
The Duchess of Gloucester was introduced to a number of children and foster carers, along with the council's fostering team, and heard about the amazing work they do to support children and families across the county.
During the visit, one of the county's young foster children, read out a poem about his personal experience of fostering and what it meant to him to have a foster family.
Councillor Jonathan Lester, Cabinet member for young people and children's wellbeing, said: "I was delighted to introduce the Duchess of Gloucester to our brilliant fostering team and dedicated foster carers. They all do so much to ensure our children are looked after and given the best start in life, so it was great for their hard work to be recognised during a Royal visit.

"I was particularly pleased to introduce our foster carers who provide overnight respite care for children with disabilities, as part of the council's new Sleepover Scheme. The Duchess also met some of our children and heard about their positive experiences and the amazing work our carers do on a daily basis."

Chris Baird, interim director for children's wellbeing, said: "It was a real pleasure to welcome The Duchess of Gloucester to Hereford and have the opportunity to share the wonderful achievements of our fostering team and carers. It was a day to remember for our staff and carers, who really do make a difference to the lives of our county's children and young people."
If you would like to know more about fostering or are interested in becoming a sleepover carer for children with disabilities, please visit www.herefordshire.gov.uk/fostering and www.herefordshire.gov.uk/sleepovercarers or call 01432 383240.
Alternatively, pop along to the next fostering event at Green Croft Children's Centre in Hereford (HR2 7NT) on Thursday 28 September from 5pm to 7pm.
Published: Thursday, 14th September 2017