Trader received a fine for fly tipping two loads of controlled waste in Hereford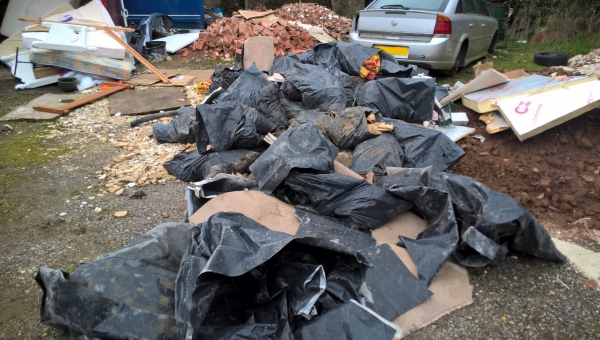 Mr Simcox fly tipping evidence (credit Herefordshire Council)
Herefordshire Council has won an enforcement case against a trader found guilty of fly tipping two loads of controlled waste.
Paul Simcox, 23, from Kingstone Hereford, pleaded guilty to failing to transfer controlled waste to an authorised person and transporting waste without a carriers licence at Hereford Magistrates' Court on Friday 4 August 2017.
Mr Simcox responded to an online advert requesting the removal of waste from a property in Gloucester. Upon collection, Mr Simcox demanded £40 more than the previously agreed price. The waste was then fly tipped at two locations in Hereford: the Holmer Trading estate and the Lulham to Preston-on-Wye road.
Mr Simcox received a fine of £1050, costs of £750, a victim surcharge of £40 and a compensation order of £75 - totalling £1915.
The maximum penalty for fly tipping is a £50,000 fine and/ or 5 years imprisonment.
Marc Willimont, Herefordshire Council's Head of Regulatory and Development Management Services, said:
"We will take action against any householder or business that illegally disposes of their waste or does not ensure that their waste is collected by a registered waste carrier.

"We were pleased to see that in this particular case, the victim was awarded compensation following Mr Simcox's dishonest actions.

"We would encourage anybody who sees fly tipping in action to report the details directly to Herefordshire Council."
The Community Protection Team will investigate fly tipping cases that are reported via the Herefordshire Council website or by calling 01432 261761.
For further information visit www.herefordshire.gov.uk/flytipping