Intelligence leads to a record haul of 240,000 concealed cigarettes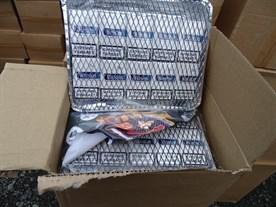 Herefordshire Council's trading standards service, in partnership with West Mercia Police, uncovered a record haul of illegal tobacco on Tuesday 22 November.
The team acted on intelligence that the shops Supersam on Eign Street and Mila on Belmont Road, both in Hereford, were selling fake and smuggled cigarettes in their stores, leading to trading standards seizing two shipping containers worth of illegal tobacco. The haul found 240,000 concealed cigarettes inside boxes of disposable barbecues.
At the request of West Mercia Police, an expedited licence review was considered by the council's regulatory sub-committee on 29 November, where both alcohol licences were suspended, pending a full hearing on 15 December 2016.
David Hough, trading standards service manager, said ''All tobacco is harmful but illegal tobacco makes it easier for children to start smoking and get hooked. Sellers rarely care who they sell to. Fewer people are buying illegal tobacco and fewer people are now prepared to turn a blind eye to it. People can make a real difference to help keep more illegal tobacco off the streets by reporting it. We need to keep the pressure up on those who continue to sell it."
Trading standards are making further enquiries regarding the illegal tobacco as the investigation continues.
If anyone has any information regarding the sale of illegal tobacco within Herefordshire, please contact Trading Standards on 01432 261761 on Monday to Friday - 9am to 4.15pm.
Further information about Herefordshire trading standards, and how to report a trading standards issue, can be found online: www.herefordshire.gov.uk/trading-standards