Builders tipped controlled waste at site of special scientific interest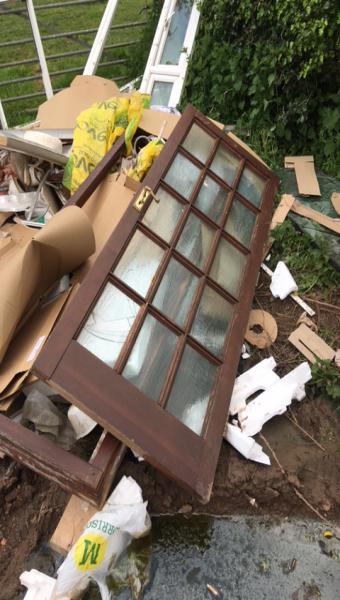 Evidence of fly tipping at River Lugg (Credit Herefordshire Council)
Herefordshire Council has won an enforcement case against two builders found guilty of fly tipping by the River Lugg.
Samuel Cooper, 31, from Hereford and Matthew Taylor, 28, from Staunton-on-Wye, were both found guilty of failing to transfer controlled waste to an authorised person at Hereford Magistrates' Court on Friday 4 August 2017. Mr Cooper was also found guilty of transporting the waste without a waste carriers licence.
Mr Cooper received fines totalling £2382.50 and Mr Taylor received fines totalling £1882.50.
The fly tipped building waste - which weighed in at 720kg - was reported to Herefordshire Council by an Environment Agency Officer at the River Lugg, which is a site of special scientific interest and conservation.
Kay Champion, who heads the Environment Agency's West Midlands waste crime team, said:
"We are very pleased to have been able to help Herefordshire Council in taking this prosecution forward, and of course we're pleased at the outcome. Fly tipping is not just an anti-social blight on our communities, it costs councils and landowners millions of pounds every year to clear up.

"We hope this case will send a very clear message to anyone thinking of breaking the law in this way."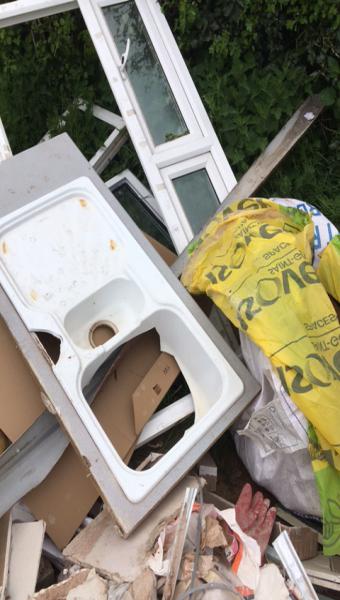 Evidence of fly tipping at River Lugg (Credit Herefordshire Council)
The maximum penalty for fly tipping is a £50,000 fine and/ or 5 years imprisonment.
Marc Willimont, Herefordshire Council's Head of Regulatory and Development Management Services, said:
"Action will be taken against any trader, business or person which illegally disposes of their waste or does not ensure that their waste is collected by a registered waste carrier.

"We would encourage anybody who sees fly tipping in action to report the details directly to Herefordshire Council."
The Community Protection Team will investigate fly tipping cases that are reported via the Herefordshire Council website or by calling 01432 261761.
For further information visit www.herefordshire.gov.uk/flytipping
Published: Tuesday, 8th August 2017