Man found guilty of fly tipping is sentenced to 9 weeks
Herefordshire Council has won its first ever custodial sentence for a fly tipping offence.
Paul Biddle, 25, of Burley Lane Bromyard, was found guilty of fly tipping offences at Hereford Magistrates' Court on Thursday 20 July. The offences took place over the period 14 - 30 April 2016.
Due to the seriousness of the fly tipping offence, and Mr Biddle's non-attendance at court, he was sentenced to a 9 week custodial sentence. The offences involved tipping controlled waste - including a sofa, car and mattress - at a Bromyard caravan park.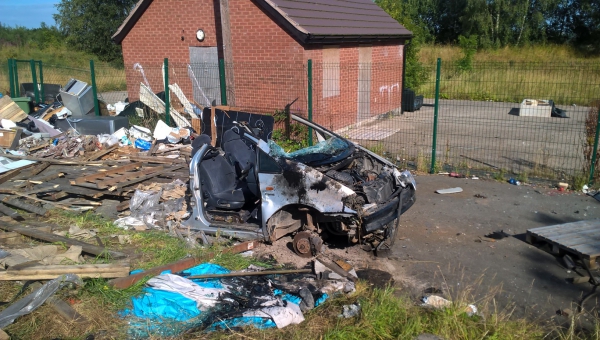 Evidence of the fly tipped car
The maximum penalty for fly tipping is a £50,000 fine and/ or 5 years imprisonment.
Marc Willimont, Herefordshire Council's Head of Regulatory and Development Management Services, said:
"Custodial sentences are reserved for the most serious offences, and Mr Biddle's sentence proves that Herefordshire Council takes fly tipping enforcement very seriously.

"Action will be taken against any resident or business which illegally disposes of their waste or does not ensure that their waste is collected by a registered waste carrier.

"We would encourage anyone who sees fly tipping in action to report the details directly to Herefordshire Council."
The Community Protection Team will investigate fly tipping cases that are reported via the Herefordshire Council website or by calling 01432 261761.
For further information visit www.herefordshire.gov.uk/flytipping