Paralympian honoured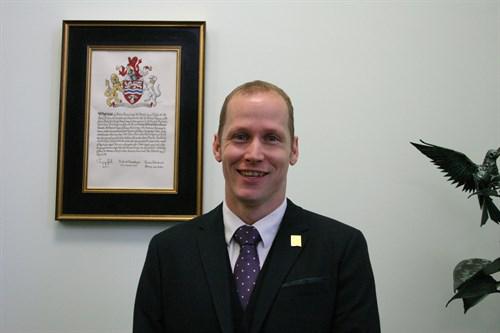 Herefordshire Council members voted today (Friday 16 December) to award the greatest honour it has in its power to bestow on any individual resident, namely to admit Sascha Kindred OBE to be honorary Freeman of the County of Herefordshire. This is the first time this award has been made to an individual by the council.
The special meeting was in recognition of the outstanding contribution that Sascha, who lives and trains in the county, has made to swimming in general, and to the Paralympic Games, World Championships and European Championships. The honour recognises the major successes, medals and world records that he has achieved, particularly during the 2016 Rio Paralympic Games, where Sascha won his seventh Paralympic gold medal and broke the world record for the men's 200 metre individual medley.
Sascha Kindred OBE said: "I am very pleased to have been bestowed this high honour by the county of Herefordshire. Competing at six Paralympic Games has been a great achievement and to be recognised by the council and local community is a great honour.

"Everyone has always been supportive of my journey and I would like to thank everyone in Herefordshire."
During his 20 year career, Sascha has a remarkable record of achievement, winning a total of 62 major championship medals including seven golds at Paralympic Games, eleven golds at World Championships and fourteen golds at European Championships during his career to date.
In the Queen's New Year's Honours list of 2009, he was awarded the Officer of the Most Excellent Order of the British Empire for his sporting achievements. Four years ago, the former council chairman, the late Councillor Olwyn Barnett, presented a certificate of congratulations to him and other medal winners from the 2012 Paralympic Games at a welcome home celebration in High Town, Hereford.
Councillor Brian Wilcox, chairman of Herefordshire Council, said: "In recognition of Sascha's achievements in Paralympic, World, European and other championships, Herefordshire Council make this award to acknowledge the outstanding contribution he has made to swimming and in representing Great Britain and Herefordshire in these and other major competitions over the past two decades.

"He has attracted national and international acclaim, bringing honour and credit on him, his family and connections including the county where he lives and to which he has rendered eminent service."
Sascha at the Shirehall ceremony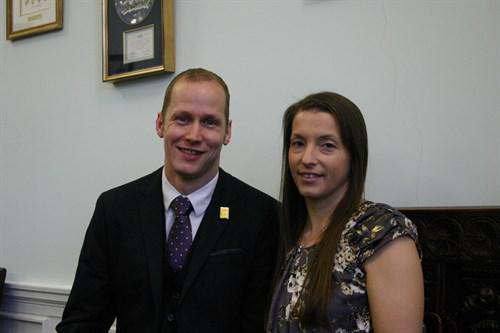 Sascha and Nyree Kindred at the Shirehall ceremony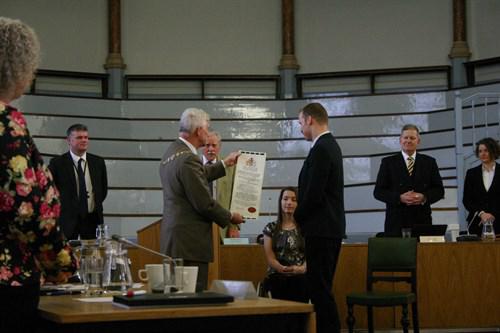 Councillor Brian Wilcox presents Sascha with the Freeman of the County of Herefordshire scroll at the Shirehall ceremony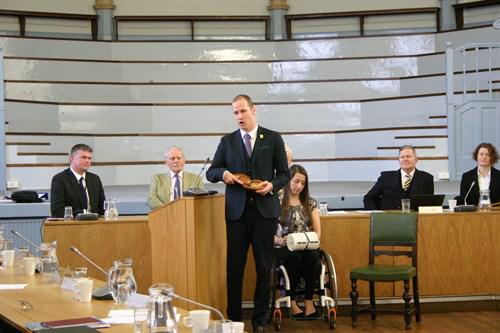 Sascha makes his acceptance speech at the Shirehall ceremony and shows the audience his gold medal from the 2016 Rio Paralympic Games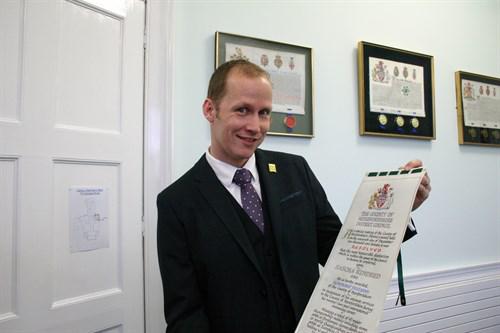 Sascha with his Freeman of the County of Herefordshire scroll following the Shirehall ceremony