Ben enjoys work experience with the council's Communications Team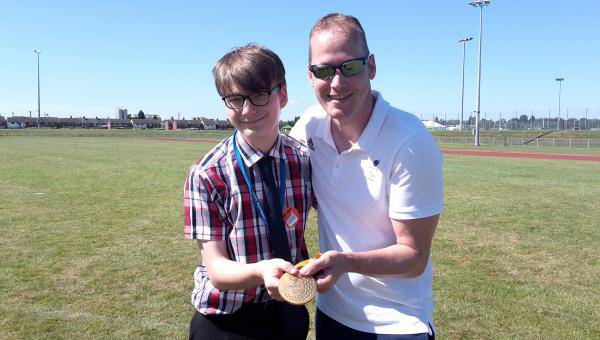 This month, the council's Communications Team was delighted to welcome 15 year old Ben from Hereford, for a week's work experience.
Ben is interested in pursuing a career in either public relations or journalism when he leaves school, so thought a week working in a Communications Team would be right up his street.
We gave Ben a number of different tasks to tackle, the most high profile being attending the Herefordshire School Games to conduct interviews and write an article. How often do you get to personally interview a seven times gold medal winning Paralympian? That's just what Ben did and here's his account of the day.
Herefordshire Summer School Games

The morning of Wednesday 5 July marked the start of the Herefordshire Summer School Games 2017 and with it a whole host of sporting activities to take part in under the glistening sun.

The event started strong with an opening ceremony hosted by Free Radio. They introduced with an exciting pirate themed dance, which got participants and spectators alike pumped for the day ahead. Next on the agenda was an appearance from seven times gold medallist, Paralympian Sascha Kindred, whose inspiring speech kept everyone in awe as he then put even more energy into the crowd when they cheered to see the stunning gold medal he won in Rio. After the oath was said (and a fun spirited warm up), the games officially began, celebrated by ecstatic kids with a massive cheer and wave!

Once the events had begun, I had the amazing opportunity to interview Sascha Kindred. The event made him feel great and he said he was happy to be there, supporting and inspiring all the participants. When asked if he was proud of Herefordshire's youth, he replied with a strong 'definitely' which showed his enthusiasm for the community. He mentioned that he loved the opening ceremony and seeing the kids' anticipation for sports during the warm up sequence!

From there, I watched a couple of the events before meeting with Stephen Brewster, Chief Executive Officer for Sports Partnership Herefordshire and Worcestershire, which organised the games. When asked on his favourite part of the day, he replied that he liked being part of the whole thing and was glad to see so many people being active. He particularly enjoyed the opening ceremony because he finally saw his team's hard work and planning come to fruition, which made it all worthwhile. He described the games as 'a good balance of competitiveness and taking part'.

I was also able to meet Councillor Brian Wilcox, Chairman of Herefordshire Council, while watching an intense football match between Hampton Dene Primary School and St Paul's CE Primary School. I asked him how important he thought the council's presence was at the games, to which he said it was 'very important because it shows support to all sporting activities, including lesser known ones'. He also explained his enthusiasm for the event, mentioning the positive atmosphere and the opportunities it gives to the participants. He also gave credit to Free Radio for their great hosting and Sascha's inspiring appearance on stage.

Ben
Herefordshire Council Communications Officer

To take a look at Ben's interview with Sascha Kindred, visit our YouTube page.
We can't thank Ben enough for his sterling efforts during his week with our team, he's an amazing young man and we know he'll go far in his chosen career….We just hope he doesn't grill us too harshly when he's a famous journalist!
Getting ready for the 2017 Herefordshire Summer School Games.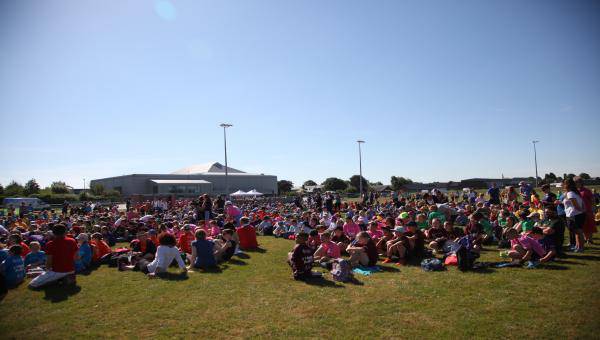 Broadlands Primary School enjoyed learning how to play lacrosse.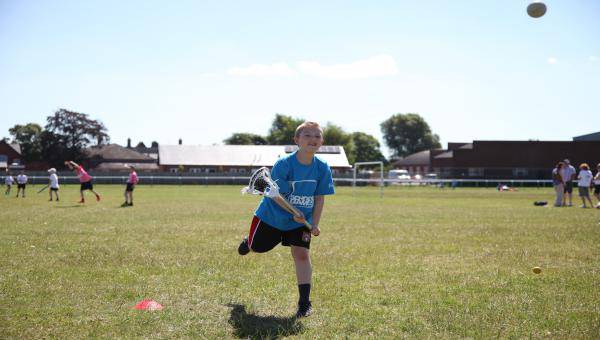 St Paul's CE Primary School (red t-shirts) and Hampton Dene Primary School (pink t-shirts) enjoyed a fast paced game of football.