A celebration of 21 years of Ledbury Poetry Festival and the 400th anniversary of the town's iconic Market House
Ledbury High Street will be closed to traffic all day on Sunday July 9, from 8am to 8pm, for a one-off community celebration to mark the 400th anniversary of the town's iconic building, the Market House.
The Ledbury Celebration becomes "Great" this year and moves to Ledbury's historic High Street market place to celebrate the iconic Market House anniversary in a birthday treat of food, drink, music, poetry and heritage.

Discover the best of local food in the street market to enjoy straightaway or take home, while soaking up the festival atmosphere with entertainment throughout the day from a fabulous range of poets, bands and musicians - from brass to beat box.

Meet characters from old Ledbury, step into the past in the Market House and the special heritage buildings, and find out how these buildings were made.

There is entertainment for all ages with Morris Men, dance performers, and a puppet theatre.

Explore fabulous locally produced fruit juices, and taste the famous local ciders and perrys.

The Ledbury Celebration is a fixture in the local food and drink calendar on the last day of Ledbury's annual Poetry Festival and brings out all that is best about Ledbury

Full details of the event's programme will be available at the Ledbury Food Group website, www.ledburyfoodgroup.org. or on the event facebook page

This event is organised by Ledbury Food Group, Ledbury Poetry Festival and Ledbury Town Council.
The timetable of events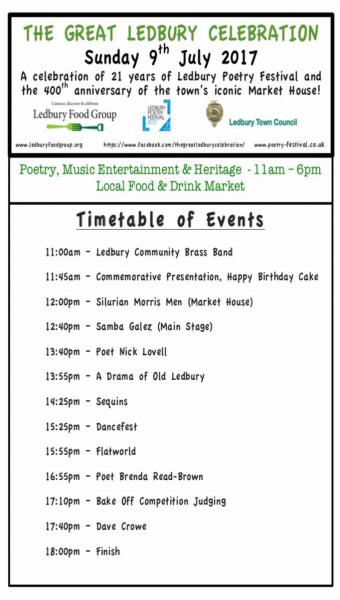 Published: Monday, 3rd July 2017