New litter campaign announced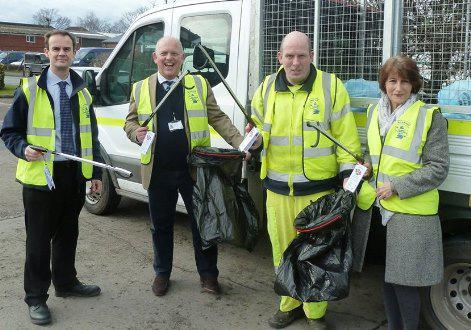 Herefordshire Council is backing a campaign to get half a million people out and about cleaning up their local communities throughout March 2017.
The brand new Great British Spring Clean will roll out for the first time in 2017, with a view to it becoming an annual event helping to bring people together and clean up the country.
TV wildlife presenter and children's favourite Steve Backshall is lending his support to the campaign, which is backed by the key anti-litter charities including Keep Britain Tidy, Keep Wales Tidy, Keep Scotland Beautiful, Marine Conservation Society and Surfers Against Sewage.
Many other organisations will also be supporting the clean up including the Women's Institute, the National Trust and the RSPCA, as well as a range of businesses. Local company The Helping Hand Company from Ledbury are the official supporters of the campaign.
Herefordshire Council will be encouraging and supporting groups and individuals who want to 'do their bit' to help clear up the litter that blights our streets, parks, roads and beautiful countryside.
Councillor Rone, Cabinet member for Transport and Roads, and the instigator of the 'Stop the Drop' campaign, from Herefordshire Council said:
'We are delighted to be supporting the Great British Spring Clean and we encourage as many groups, individuals and organisations as possible to take part. It will also support our own Stop the Drop litter campaign".
To take part in the campaign and set up your own clean up event visit www.greatbritishspringclean.org.uk, you can also register on our website www.herefordshire.gov.uk/stopthedrop so you can advertise your event locally and encourage family, friends and neighbours to join in.
As soon as you have registered to organise a litter pick you MUST let Balfour Beatty know by ringing 01432 261800 so they can arrange to collect your bags of litter after your litter pick.
Balfour Beatty also have a limited number of litter packs available that can be borrowed free of charge. The Helping Hand Company are sponsoring the campaign by donating some of these packs.
Litter remains a huge problem across the country, causing harm to the environment and wildlife, with councils in England having to spend over £700 million on street cleaning services every year. Herefordshire Council spends just over £1 million a year on street cleaning.
Follow #GBSpringClean for all the latest news.
Let's all work together to keep Herefordshire beautiful.
Pictured L-R Chris Isherwood from Helping Hand, Councillor Paul Rone, Mathew Knill from Balfour Beatty and Jane Denny from Herefordshire Council