Under the recycling of metals scheme, the crematorium has so far donated £46,624 to charities across the county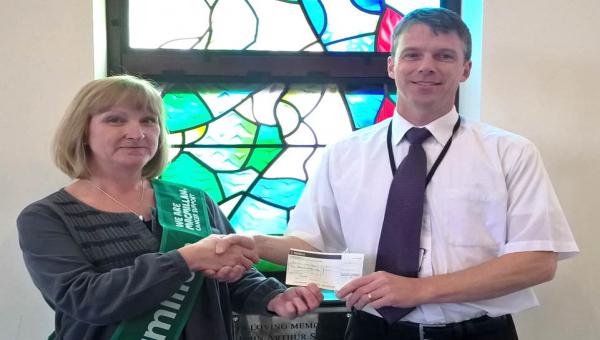 Herefordshire Council's crematorium has donated £5,000 to Macmillan Cancer Support through the Institute of Cemetery and Crematorium Management's (ICCM) Recycling of Metals Scheme.
In the last year, Macmillan Cancer Support has adopted 25 new posts at Hereford County Hospital and the donation will help the charity to deliver extensive training and development to their team at the Trust.
Emma Garvey, Macmillan Cancer Support Fundraising Manager for Herefordshire, said:
"Macmillan Cancer Support in Herefordshire would like to thank the bereaved families, Hereford Crematorium and the ICCM for their generous donation of £5,000. Macmillan improves the lives of people affected by cancer, providing practical, medical, emotion and financial support. Macmillan strives to improve cancer care and provide high quality support to those affected by cancer and their families."
ICCM launched the recycling scheme in 2005 to ensure that metal recovered from cremated remains were recycled effectively instead of burying them into the ground. The recycling of metals recovered from cremation is only carried out with the written consent of each bereaved family.
Councillor David Harlow, cabinet member of economy & corporate services said:
"I would like to say how grateful we are to the families and friends of those passed who have allowed us to participate in this scheme, I hope that this will provide them some comfort to know that their loved one's passing has provided a substantial gift of support to others. As well as supporting local charities the scheme enables the Herefordshire Council crematorium to provide a way to re-use the metals recovered from the cremation process in a way that is kind to the environment"
Since November 2011, under this scheme, the crematorium has so far donated £46,624 to charities across the county such as the ELY memorial fund, The Haven, Cruse Bereavement Care, Marie Curie Cancer Care, St Michael's Hospice, Home Start, Phoenix Bereavement Support Services, Winstone's Wish and Rocky Lee's Little Feet.
Find out more information about the crematorium and the metals recycling scheme on their webpages.
Find out more about the work of Macmillan in Herefordshire on their webpages.
Pictured Emma Garvey, Fundraising Manager - Herefordshire and The Forest of DeanMacmillan Cancer Support and John Gibbon, Bereavement and Markets Services Manager