Councillor Nigel Shaw will join the cabinet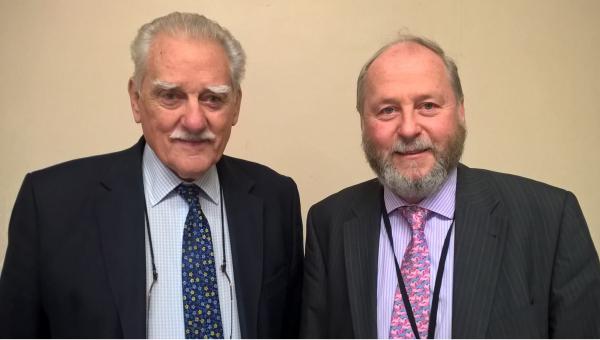 (l-r) Councillor Tony Johnson and Councillor Nigel Shaw
The leader of Herefordshire Council has today (Wednesday 29 March) confirmed that Councillor Nigel Shaw will join the cabinet, with effect from Saturday 1 April 2017.
Councillor Nigel Shaw will take on the new portfolio of financial management and ICT, which will include taking the lead responsibility for financial planning and management.
Councillor Tony Johnson, leader of Herefordshire Council, said:
"Herefordshire Council has maintained core service delivery and continued to deliver a balanced budget despite making £70m in savings since 2010. The challenges are set to continue and the additional focus that Councillor Shaw will bring to this through the new portfolio will ensure our plans to meet those challenges are robust and deliverable.

"I would like to welcome Nigel to our cabinet team and look forward to the strong leadership in financial management and ICT that he will provide."
Councillor Nigel Shaw, Cabinet member for financial management and ICT, said:
"In these challenging financial times, it is more important than ever that the council secures the best value for money when delivering statutory services which enable residents to live safe, healthy and independent lives. My cabinet responsibilities will ensure Herefordshire Council meets these priorities and within budget."
The cabinet responsibilities are confirmed as:
Councillor Tony Johnson
Leader of the council / corporate strategy and budget
Councillor Patricia Morgan
Deputy leader of the council / health and wellbeing
Councillor Harry Bramer
Contracts and assets
Councillor David Harlow
Economy and corporate services
Councillor Nigel Shaw
Financial management and ICT
Councillor Jonathan Lester
Young people and children's wellbeing
Councillor Philip Price
Infrastructure
Councillor Paul Rone
Transport and roads