Herefordshire Council's trading standards service, in partnership with West Mercia Police have carried out a joint raid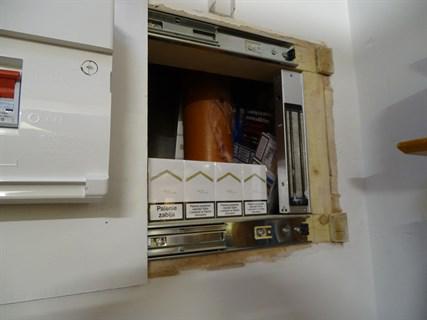 Herefordshire Council's trading standards service, in partnership with West Mercia Police, carried out a joint raid at the Europe Quality Food shop in Ross-on-Wye. This resulted in the arrest of Mr. Karzan Elias.
Officers found a secret compartment of illegal tobacco products hidden behind a magnetised stock room fuse box. Most of the cigarettes and hand rolling tobacco were counterfeit and all goods had evaded UK duty.
Karzan Elias, trading as Europe Quality Food, pleaded guilty at Hereford Magistrates' Court on 16 December to selling illegal fake and smuggled tobacco products. He was ordered to pay fines and costs totalling £2900.
Marc Willimont, head of development management and regulation for Herefordshire Council, said: "This year alone Herefordshire Council's trading standards service has seized nearly half a million illegal cigarettes and will continue to target those criminals involved. The sale of illegal cigarettes and tobacco harms honest local businesses and costs the UK tax payer up to £2bn a year[i].

"Although all tobacco is harmful, the cheap price of this illegal tobacco makes it easier for children to start smoking, as we find these shop keepers rarely care about who they it sell to. We are finding that fewer people are prepared to turn a blind eye to this practice and Herefordshire Council will therefore work with its partners to keep the pressure up on those who continue to sell it. I would ask anyone with any information on this sort of trade to make a real difference in keeping illegal tobacco off the streets by reporting it us."
If anyone has any information regarding the sale of illegal tobacco within Herefordshire, please contact trading standards on 01432 261761 on Monday to Friday - 9am to 4.15pm.
Further information about Herefordshire trading standards, and how to report a trading standards issue, can be found online.