Herefordshire secures £8million to help fund a new university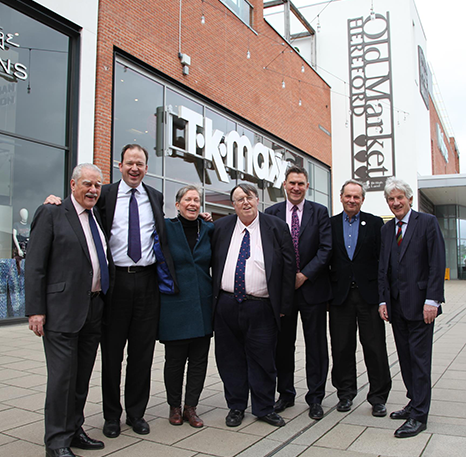 Herefordshire Council can confirm that the county has secured £8million of funding from the Marches LEP through the government's Growth Deal, to help fund a new university in Hereford.
Herefordshire Council has been working in collaboration with the New Model in Technology & Engineering (NMiTE) to develop proposals and bid for funds for the new city-based campus, which will include halls of residence and faculty buildings.
Launched in 2015 with the support of a strong coalition of leading universities, engineers, business people and MPs, NMiTE offers a way for Britain to address its shortfall of 40,000 engineering graduates, and will encourage more women to work in the industry. It also provides the opportunity for Hereford to attract more young people and revitalise the county's economy.
Councillor Tony Johnson, leader of Herefordshire Council, said: "We're delighted that Herefordshire is receiving government funding for the new university. We have been striving for a new university, to complete the exemplary education offering that we already have here in Herefordshire's schools and colleges. A new university provides the opportunity to encourage young people to Herefordshire and to build on our economic vision for the county, with all the businesses and services that students, alumni and professionals require.

Councillor Johnson added:

"The new university will have a game-changing impact on our county. Herefordshire has one of the lowest weekly wages of England and Wales and the wider economic benefit of a new university, and rising skills level for the community will be far-reaching, as we welcome up to 5,000 students over the next decade to live and learn in the heart of the city."
David Sheppard, the new university's co-leader, said: "The successful bid for government support was prepared in partnership with Herefordshire Council; a collaboration that will strengthen and deepen as Hereford's new university develops over the next 15 years. This public sector support is matched by the already strong financial commitment from local engineering businesses and large organisations such as Arup, Cargill and Heineken."
The NMiTE university aims to open its doors to the first 300 students at a purpose-built city centre campus in Hereford in September 2019. It will have 5,000 students by 2032.
The council can also confirm that funding has been secured for a new cyber security centre based at Rotherwas in Hereford.

Photo caption (L - R):

Councillor Tony Johnson (leader of Herefordshire Council), Jesse Norman MP, Karen Usher and David Sheppard (NMiTE), Councillor David Harlow (Herefordshire Council Cabinet member for Economy and corporate services), Dr Roger Morgan (Hereford City of Culture bid) and Bill Jackson (chair of the Hereford Enterprise Zone).