Herefordshire Council is advising poultry farmers and game keepers to follow the amended government advice to prevent the spread of avian influenza.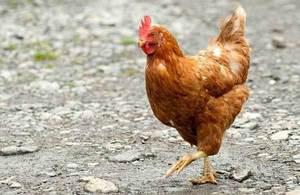 Since 28 February, the Avian Influenza Prevention Zone has been targeted towards the high risk areas.
Herefordshire is not considered to be a high risk area, meaning keepers now have the option to allow poultry and kept birds managed access to fenced outdoor areas. However, poultry keepers must continue to observe the minimum biosecurity standards to prevent the risk of contamination from wild birds.
Councillor David Harlow, cabinet member for economy and corporate services, said:
"Herefordshire Council would like poultry and captive bird keepers in the county to be vigilant for any signs of disease in their birds and any wild birds, and seek prompt advice from their vet if they have any concerns.

"They can help to prevent avian flu contamination by following the minimum biosecurity standards, such as cleansing and disinfecting clothing, footwear, equipment and vehicles before and after contact with poultry."
Poultry and captive bird keepers in the county with more than 500 birds are asked to comply with the additional biosecurity measures and consult the Defra guidance.