Consultation extended until 29 January 2016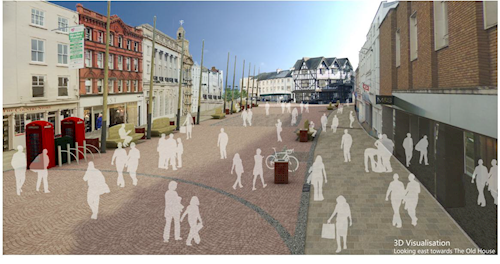 The public consultation which asks for opinions on plans to improve the city centre has been extended until 29 January 2016.
Although the number of consultation responses has been good to date, with around 450 people completing the consultation questionnaire, the council is keen to ensure that it gives ample opportunity for visitors, residents and shoppers to give their views.
Cllr Paul Rone, cabinet member highways and transport said:
"I am pleased with the response we've received so far and it's encouraging that residents are taking an interest in this project.

The extension will allow a bit more time for those who still haven't had the chance to take part to complete the questionnaire. The Christmas and New Year period is a busy time for everybody and hopefully the extension will encourage more people to take part."
Plans of the proposed improvements can be viewed on the council's website https://www.herefordshire.gov.uk/transport-and-highways/transport-schemes/high-town-refurbishment
Plans can also be viewed at the Butter Market and paper surveys completed.
If you have any questions about the consultation or would like to request a paper survey please email Hightown.herefordshire@bblivingplaces.com
Published: Monday, 11th January 2016