On behalf of Balfour Beatty Living Places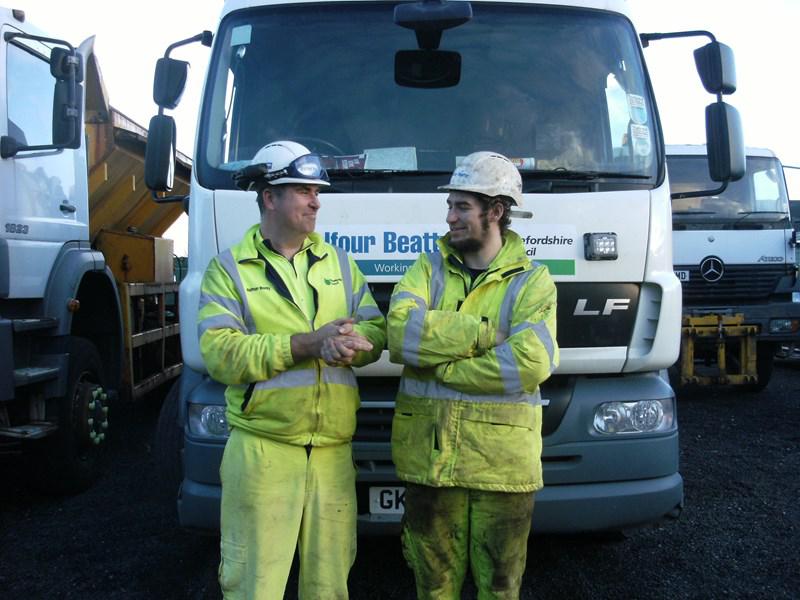 Proud father Colin Frampton is watching his son Conor follow in his footsteps in the highways division of Balfour Beatty Living Places (BBLP) in Hereford.
Nineteen-year-old Conor has started a two year apprenticeship with BBLP, joining father Colin who has worked with Balfour Beatty since 2013 when the contract with Herefordshire County commenced.
Colin, an advocate of BBLP's apprenticeship scheme, understands the benefits in shaping the skilled workforce of the future through Apprenticeships.
He said: "Balfour Beatty is a great company to work for and it's giving Conor an opportunity to learn a trade while obtaining a nationally recognised qualification and earn a salary at the same time. There is a tremendous team spirit and a good working environment; a perfect learning environment."
Apprentice Conor, who attended the local Hereford Academy, shares his father's enthusiasm for the practical, hands-on training provided through an apprenticeship.
"I really look forward to coming to work each day and learning something new," he said. "I like getting stuck in and everyone gives me plenty of encouragement to get involved and complete my apprenticeship."

Previously working at a bakery, a friend who became a BBLP apprentice last year, encouraged him to apply.

"It's such a varied job," Conor added. "It's not just the work itself, but also travelling around the county and discovering places in the county I've never been to before and learning how I can contribute back to the local community through my work with BBLP"

When it comes to fatherly advice, Colin urges his son to 'watch and learn': "Listen to the people you're working with and take their advice. They know what they're doing! An apprenticeship is a great way to pick up this knowledge and expertise".
The two-year apprenticeship scheme includes paid on-the-job training as well as studying at college to gain a NVQ Level 2 Diploma in highways maintenance.
Since BBLP started working with Herefordshire Council two years ago, the company has taken on 12 apprentices, six each year
Providing apprenticeships is an important part of the National Skills Academy for Construction project that BBLP is delivering in partnership with the Council. This sees BBLP providing work experience placements, apprenticeships, support for new graduates and support for local subcontractors.
BBLP is active within the community, running activities with schools and providing work experience, graduate jobs and training for local subcontractors under the Construction Industry Training Board accredited scheme. These activities are part of the wider Balfour Beatty commitment to the 5% Club, which the company joined in 2013.
Published: Tuesday, 12th January 2016