Booklet will help veterans and their families navigate healthcare, employment, housing, education and other support available in Herefordshire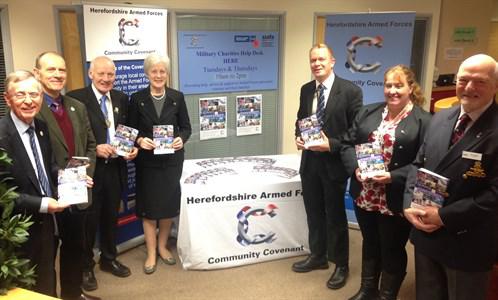 Herefordshire Civilian Military Task Group is encouraging ex-service personnel and their families to benefit from a new information booklet available throughout the county
'Service to Civvy Street' is a booklet to help veterans of all ages and their families navigate healthcare, employment, housing, education and other support available in Herefordshire and was launched this week by Lady Darnley, the Lord Lieutenant of Herefordshire, at the Military Charities Help desk at Franklin House in Hereford.
If you have served in the Armed Forces or are the partner, spouse or family member of someone who has served in the Armed Forces then this booklet is for you.
Councillor Peter McCaull, the vice chairman of Herefordshire Council said
'we hope this booklet will make it easier for ex-service personnel and their families to find the services and support they need in order to help them settle into civilian life in the county'
The booklet was funded by the Ministry of Defence's Community Covenant Grant Scheme and developed by Herefordshire Civilian Military Task Group in partnership with Worcestershire Council
Copies are available at various venues across the County but regular supplies will be held at the Military Charities Helpdesk.
The help desk is open Tuesdays and Thursdays 10am to 2pm at the Franklin House Customer Service Centre on Blue School Street, Hereford.
The booklet is available also available online at www.herefordshire.gov.uk/civvystreet