Cold weather grants for loft and cavity wall insulation available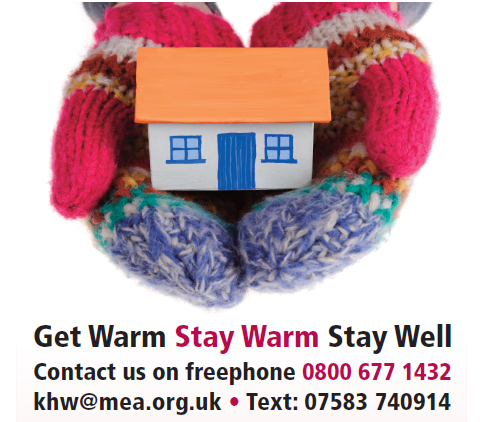 As colder weather sweeps across the country, it is more important than ever to protect yourself from the cold. As part of the Government's Cold Weather Plan, Keep Herefordshire Warm (KHW) is encouraging residents to prepare for the cold weather. KHW advisors are on hand to provide advice on keeping warm throughout the forthcoming cold period and beyond.
Keep Herefordshire Warm is Herefordshire Council's affordable warmth service, a partnership between the council and local energy charity Marches Energy Agency.
We advise residents to make preparations to stock up on food and other essentials, make sure they can access adequate heating and ensure pre-payment meters have enough credit in the event that leaving the house is difficult.
We would also like to ask that neighbours stay alert in their communities and look in on vulnerable neighbours. If you are venturing out wrap up warm and watch out for ice.
In the longer term we are urging residents who require insulation measures to contact us to ensure they can benefit from grants for loft and cavity wall insulation. A fully insulated property is better protected from the cold and will save money on your bills. Loft insulation can save householders up to £150 and cavity wall insulation £145 on heating bills every year**.
Yesterday (13 January 2016), the Met Office updated the Level 2 cold weather alert. This has now been updated to a Level 3. The Met Office, said
"This week will see cold air spread across the UK as the wind changes to a northwesterly, in marked contrast to the recent mild weather. There will be rain or showers at times which could fall as sleet or snow, perhaps at lower levels, but also some winter sunshine. It will be cold at night with overnight frosts and a risk of ice"
Keep Herefordshire Warm offers free impartial advice to Herefordshire residents. For more information on the above or for any matter relating to energy please visit www.herefordshire.gov.uk/energyefficiency or call Keep Herefordshire Warm on 0800 677 1432.
*Subject to survey. All surveys will be free and householders will be under no obligation should they change their mind.
**figures supplied by Energy Saving Trust 17/03/14 based on a semi-detached house with gas central heating
Published: Thursday, 14th January 2016