Halo are investing £2.3m into the exciting development of Ledbury Swimming Pool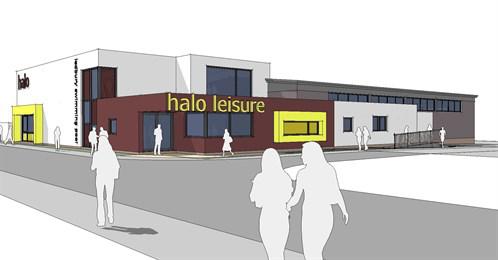 Building work on the Ledbury pool development, which includes a complete new extension to the building, will start in June 2016 and will be completed by April 2017.
Halo are investing £2.3m into the exciting development of Ledbury Swimming Pool, the development will include :-
A new fitness suite:
Doubling the size of existing gym and the current number of pieces of equipment
New fitness studio - supporting personal training and an enhanced group exercise class timetable
New sauna, steam room and feature shower
Fresh new family friendly changing facilities
New reception area
The development work will mean the temporary closure of some parts of the building and Herefordshire Council officers are working with Halo management to explore ways to minimise the impact of the closure and to provide alternative arrangements with financial benefits for the community during this period.
Councillor Harry Bramer, Cabinet member for contracts and assets said
"This is a major investment in leisure facilities in Ledbury which is great news for the local community who feared the closure of the pool over recent years. Whilst we understand there will have to be some closure of the service, in the long term the new facilities will bring many benefits for the health and wellbeing of the community."
Scott Rolfe, Halo chief executive said
"The scale of the refurbishment and the need to have the best quality build in the shortest time frame makes it financially and practically impossible for the centre to remain open during the project. The decision of a short term closure has not been taken lightly and all alternatives have been fully explored. Although the swimming pool will close we are hoping to relocate the gym to the youth club next to the pool. It will be bigger and have even more equipment and we will also run our group exercise classes from there too."
Halo will be communicating to all customer outlining the alternative options and offers available to them during the building project.