Nominations are now open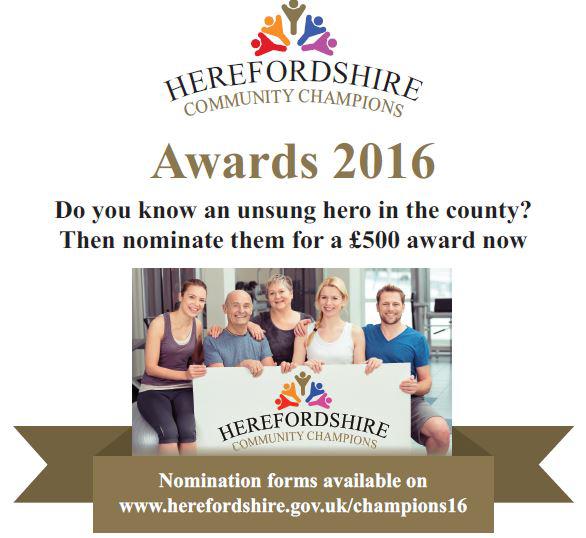 Do you know someone who is a cornerstone of your community but keeps out of the limelight? Someone who puts the community first?
Then Herefordshire Council wants to hear about them and reward them with a chance of winning a cash prize of £500 and a trophy as one of our Herefordshire Community Champions.
The Herefordshire Community Champions awards are a partnership between Herefordshire Council and Cargill. The awards have been developed to recognise and say a massive 'Thank You' to the extraordinary people living in Herefordshire that make it one of the best places in the country. There will be a presentation of the awards by the Lord Lieutenant of the County, the Countess of Darnley, at a special dinner on 29 April in Hereford to celebrate 3 finalists from each award category.
There are 5 awards in total, covering all age ranges:-
Volunteer of the year
This award goes to a volunteer who regularly makes a difference to their area. An individual who gives freely and unselfishly of his or her time to help others, who has demonstrated innovation, teamwork, passion and integrity throughout their involvement and produced a profound effect through their work.
Apprentice of the year
This award seeks to acknowledge and celebrate an apprentice's exceptional contribution and achievement in their workplace.
Local community champion
This award aims to recognise a person or group who has significantly improved their area and community environment. It may be safer, cleaner, greener, friendlier or more attractive because of someone or something that they have done.
Youth champion
Open to under 18's this award is for a young person who encapsulates commitment, contribution and giving, either to or for the community, individuals, family or others. Through caring, by volunteering, by achieving, in showing spirit or heroic deed, perhaps above and beyond expectation and in ways that would not normally attract the limelight.
Greatest achievement award
This award goes to a person who has shown incredible determination or achieved great things in the face of adversity and encourages and rewards people who quietly go about making a significant difference to their area and in doing so contribute to a better way of life.
We invite nominations for those who have demonstrated commitment to making a positive difference in their community. The awards are open to anyone living in Herefordshire.
Forms can be sent to officechairman@herefordshire.gov.uk or to Herefordshire Community Champions c/o Chairman of the Council, Plough Lane Office, Plough Lane, Hereford, HR4 0LE.
Let's show our appreciation for some of the amazing people we have in Herefordshire
Published: Friday, 5th February 2016