Recycling scheme donates to local memorial fund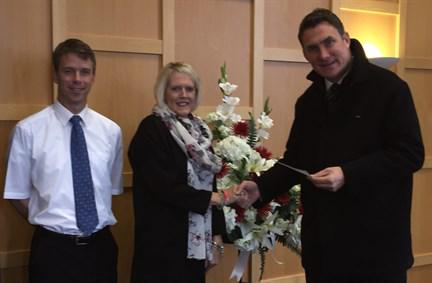 Herefordshire Council's crematorium has donated £4,337 to the ELY memorial fund through the Institute of Cemetery and Crematorium Management's (ICCM) Recycling of Metals Scheme.
The ELY memorial fund was set up by Angela and Steven Tyler, parents of Emma Louise Young (E.L.Y.) who tragically lost her life in a road traffic accident. She was just 23.
Angela Tyler said: "We were thrown into chaos after Emma's tragic accident. Our biggest worry was not having sufficient funds to pay for Emma's funeral costs of nearly £5,000. By setting up the ELY Memorial Fund, we are able to give eligible Herefordshire families a one-off condolence gift of £2,000 to help towards their child's funeral costs. Nothing in this world prepares you for the unexpected tragic loss of your child and our fund helps at a crucial time for families."
The ICCM launched this scheme in 2005 to ensure that metal recovered from the cremated remains were recycled effectively instead of burying them in grounds thus making the whole process more environmentally friendly and valuable. The recycling of metals resulting from cremation is only carried out with the written consent of each bereaved family.
Councillor David Harlow, cabinet member of economy & corporate services said: "Herefordshire Council's crematorium is pleased to make a donation through the ICCM Recycling of Metals Scheme. As well as supporting local charities, the scheme provides an environmentally friendly way to re-use the metals recovered from cremation."
Since November 2011, under this scheme, the crematorium has so far donated £37,180 to charities such as The Haven, Macmillan Cancer Support, Cruse Bereavement Care, Marie Curie Cancer Care, St Michael's Hospice, Home Start, Phoenix Bereavement Support Services, Winstone's Wish and Rocky Lee's Little Feet.