Make sure you get your nomination in and help celebrate an unsung hero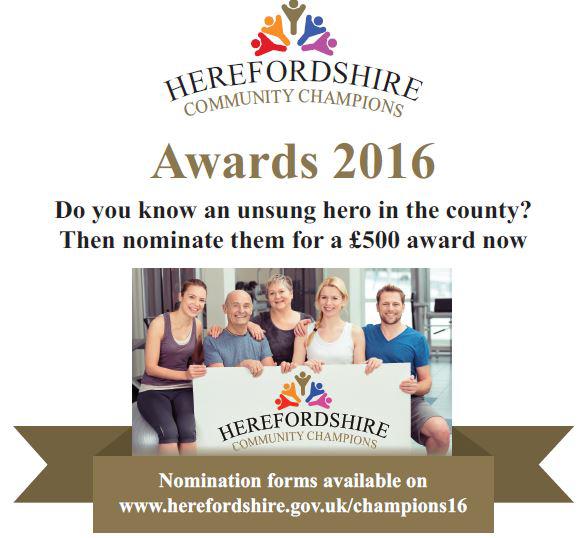 Nominations have been coming in thick and fast for the Community Champions awards 2016, which is fabulous news, and some of the stories of the amazing community spirit of the people of Herefordshire are humbling.
Here are just a selection of some of the amazing nomination comments we have received:-
"If I were to list all of the things that they do I would quickly run out of the 500 words that I am allowed"

"She provides a role model and inspiration to so many people"

"It is heartening to see the village begin to blossom and I feel these people should be commended for their ongoing efforts."

"It is people like this who will keep the county thriving in the tough economic times by putting herself out and organising others to do the things that make this a great society to live in."

"He is a young man who is absolutely dedicated to giving his spare time and money to the community"

"an unsung hero with a massive heart of gold"

"Dedicated their life to supporting others and it is my belief that they should be recognised for their humanity"

"An amazing lady who selflessly goes about her daily life doing things for others in the community and works hard on projects for the community"

"A glowing example of humanity"

"She is the powerhouse of our village life"
These people really are a credit to Herefordshire and we are privileged to have them in our communities. Thank you to all that have nominated so far.
Do you know someone equally deserving of a nomination? We are especially looking for more nominations for the Apprentice of the year and Youth Champion categories.
The 5 nomination categories are:- Volunteer of the year; Apprentice of the year; Local community award; Youth champion and Greatest achievement award.
Show how much you and your community appreciate those unsung heroes, nominate them now.