Student's show their interpretation of how the city will look in the year 2020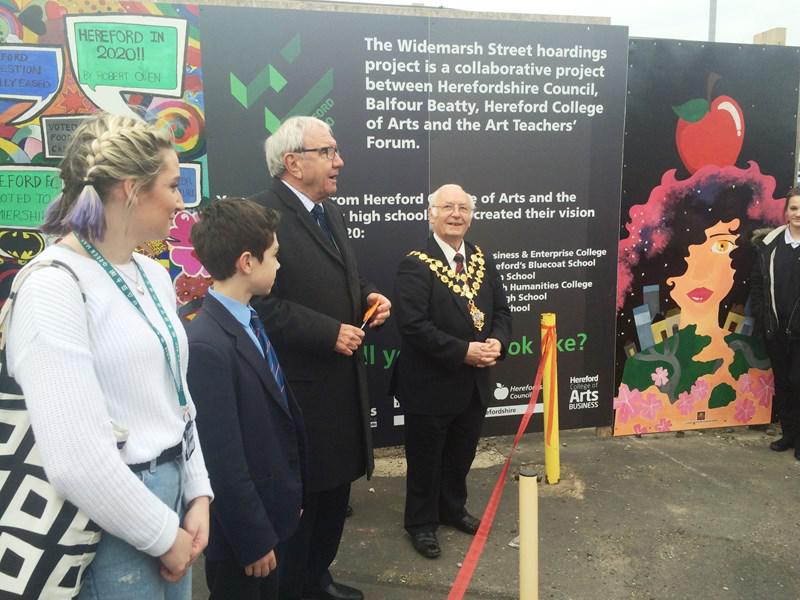 Students from Hereford College of Arts and 12 Herefordshire secondary schools have produced the largest piece of outdoor artwork to be displayed in the city.
The artwork spans 2336 square feet and covers the hoardings in Widemarsh Street and Merton Meadow Car Park. The artwork, which has been developed using the theme Hereford 2020, depicts the student's own interpretation of how the city will look in four years' time. The hoardings are in situ to enable demolition of buildings on the footprint of the City Link Road.
The project has seen Herefordshire Council working in partnership with Hereford College of Arts, county schools and Balfour Beatty Living Places who have sponsored the materials and installation of the artwork.
The project has given an opportunity to engage with young people and develop their understating of the development of the site and the changes planned to the city's landscape by the year 2020.
Councillor Graham Powell, cabinet member economy and corporate services said:

"I've been impressed by the standard of artwork delivered through this project, we certainly have some great talent in the county. Although this has been a good opportunity for budding artists to showcase their talent, it also has the added advantage of communicating to our younger residents that Hereford is undergoing major redevelopment. We know the economic vitality of the city will provide them with greater opportunities to study, live and work in the city.

We anticipate announcing the construction contractor for the City Link Road over the coming weeks and we are looking forward to working with them and engaging with the community through the construction phase of the road."

Rachel Rice, knowledge centre manager, Balfour Beatty Living Places continued:

"BBLP works closely with local colleges and schools providing work experience placements, training days and taster opportunities. We are delighted to support this creative student project - the brilliant artwork the students have produced will look fantastic during the build of the City Link Road.
The City Link Road, is being jointly funded through the Local Enterprise Partnerships' Growth Fund and from the council's capital programme. Demolition works and site clearance along the line of the road are nearing completion and the main roadworks contract is due to commence in June. This scheme follows on from the retail quarter which was the first phase of the regeneration of the old Edgar Street Grid site and will enable the development of 800 new homes in the heart of the city.