Herefordshire's Local Transport Plan sets out transport priorities for the county over the next fifteen years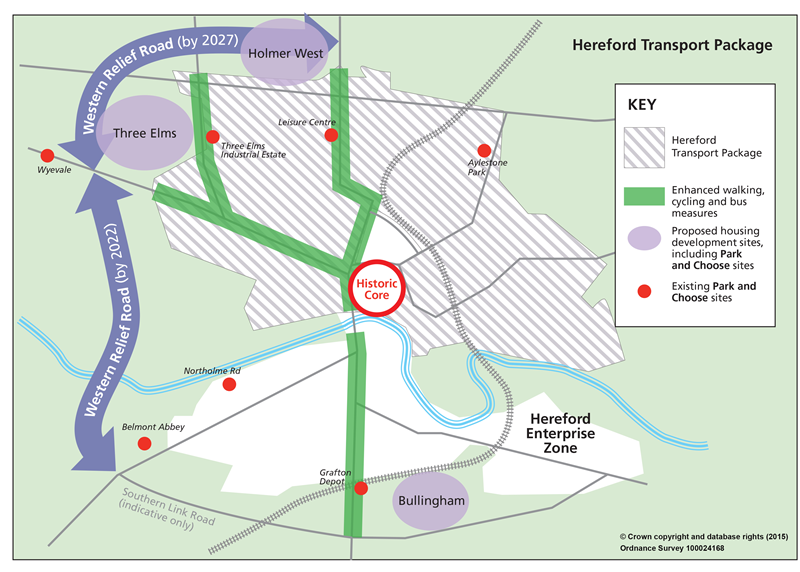 Herefordshire's Local Transport Plan, which sets out transport priorities for the county over the next fifteen years, has been recommended to council at a meeting of Herefordshire Council's cabinet today (Thursday 14 April 2016).
The Local Transport Plan supports the council's core strategy to develop a clear plan for investment in the transport network, and aligns the development with the emerging economic plan and the council's health and wellbeing strategy. It includes information on the proposed Hereford Bypass.
The LTP has five key objectives:
Enable economic growth
Provide a good quality transport network for all users
Promote healthy lifestyles
Make journeys safer, easier and healthier
Ensure access to services for those living in rural areas
Councillor Tony Johnson, leader of the council said:

"The Local Transport Plan is one of the council's most important strategic documents. It sets out the county's infrastructure and transport needs in order to grow the economy- and Herefordshire must grow its economy. We have ambitious plans for infrastructure and housing growth, which in turn will strengthen the county's position for years to come.

The Local Transport Plan offers a range of measures to contribute to the economic growth of the county, as well as the health and wellbeing of our residents. It includes the delivery of a Hereford Bypass, which I know will be welcomed by many, however we know that we will also need to improve other modes of travel to help become a healthier and more prosperous county.

We are now moving to delivery phase of the Hereford Bypass, which will include confirming the detailed route, securing planning permission, funding and acquisition of land prior to construction. We want to reassure people that we will continue to consult extensively throughout the process with the public, stakeholders and parish councils.
The full draft LTP document can be viewed on the council's website.