Baroness Randerson, visits Hereford's high profile regeneration projects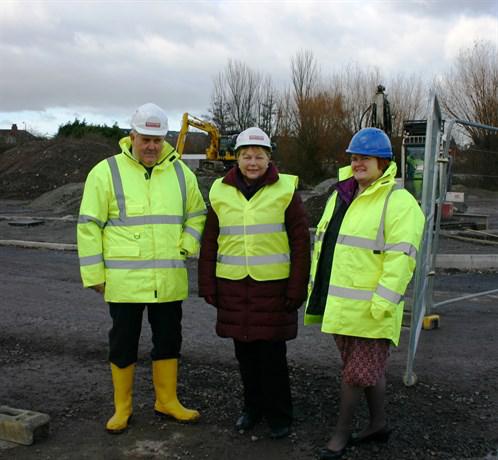 Liberal Democrat Lords Spokesperson (Transport), Baroness Randerson was warmly received for a tour of some of Hereford's most high profile regeneration projects last Friday, 13 January.
The Baroness arrived for a whistle-stop tour of the Hereford Business Hub at Rotherwas, the route of the Southern Link Road and lastly, to walk the route of the City Link Road.
Baroness Randerson said: "I have experienced the Hereford traffic jam on many occasions. I realise how important it is for the future development of Hereford and the county that a full bypass is built as swiftly as possible.

"As Liberal Democrat Shadow Secretary of State for Transport I will add my voice to demands for the government to provide funding for this important transport link."

Councillor Philip Price, Cabinet member infrastructure, said: "It was an honour to meet the Baroness and to accompany her to visit some of the exciting business and regeneration projects underway in the city.

"We continue to work hard to put Hereford 'on the map' and this visit will help to raise the city's profile."
The Southern Link Road is due for construction in 2019 and the City Link Road is due for completion in autumn of this year. Both projects will enable housing and business land to be opened up for development.