Plan ahead and allow yourself extra travel time during the May Fair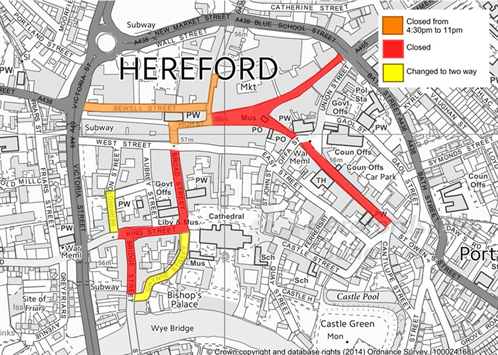 The annual May Fair opens at 3:45pm on Tuesday 3 May (with set-up from Monday 2 May) for three days of fun-filled excitement.
Herefordshire Council urges drivers to plan ahead, be patient and allow yourself extra travel time during the May Fair.
The usual roads to be closed to traffic (from 5pm on Monday 2 May through to 7am on Friday 6 May) will be:
Commercial Street
High Town
St. Peters Street
St. Owen Street
Broad Street (below junction of West Street and East Street)
King Street and Bridge Street
Other considerations
Some parking/loading/unloading areas will be closed in Union Street and in the streets mentioned above
Widemarsh Street (from its junction with Blueschool/Newmarket Street) and High Street will be closed to traffic from 4:30 pm to 11:00 pm on the evenings of 3, 4 and 5 May
The southern end of Berrington Street will be two-way between St Nicholas Street
All of Gwynne Street will be two-way
There may also be additional congestion for traffic using St Martins Street for access onto the A49
Reduced parking availability on Monday 2 May in Merton Meadow car park during the Hereford FC match against Westfields
All other city centre roads will operate as near to normal as possible.