Work has started on the first batch of C and U roads to be improved as part of the Department for Transport's £2.558m additional investment for highways.
The programme of works, which are in addition to the Council's annual spend on our A & B roads, will involve patching repair works in several locations over the coming months. This will be followed up by extensive surface treatment in these areas next year after a further injection of funding,
Patching repairs, followed by surface dressing of the selected roads is considered the most cost effective use of this funding. It prevents further deterioration of roads before larger, more expensive repairs are needed, and can extend the life of the road surface by up to ten years.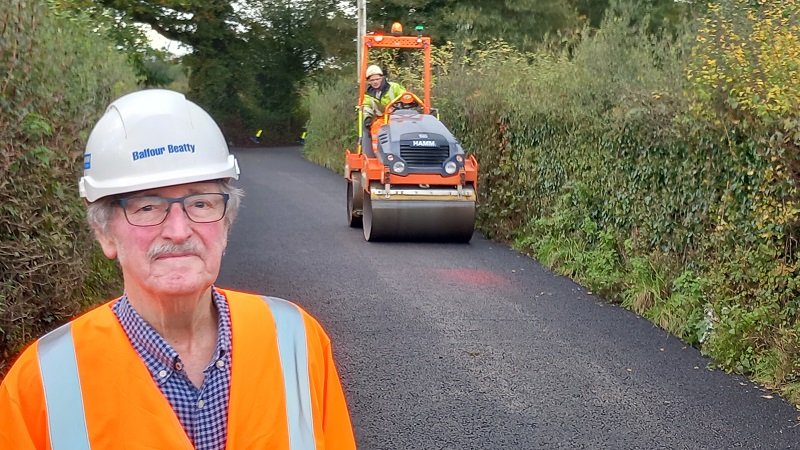 Cllr Barry Durkin, Cabinet Member Roads and Regulatory Services, took time to visit the works taking place at C1234 at Bagwyllydiart. He said: "All of the feedback we receive from residents demonstrates that the condition of our roads is a top priority. We are pleased to be able to confirm the first batch of roads that will benefit from this programme of additional investment that will target several local C and U roads throughout the county to improve links between our rural communities.

"I was recently on site to witness one of these projects, which involves patching work on our rural roads and I found the quality of the improved surface to be excellent. In addition to our annual investment, we look forward to providing longer-lasting and more reliable road surfaces in various locations during this initiative. This will reduce the need for reactive maintenance and promote more efficient and enjoyable journeys for road users in the county."
More information, including the works confirmed so far, is available on our website.
The first batch of works is:
C1060 - From A44 to C1059, Near Hatfield
C1125 - A417 To The Vauld, Bodenham Village
C1294 - C1293 to Court Farm, Kynaston
C1154 - A417 To Millend Farm, Canon Frome
C1110 - Little Maidenhyde to C1116 Via Pencombe
C1289 - The Old Lodge, Much Marcle
C1155 - Heywood Lane to Cold Green, Near Ashperton
C1234 - Bagwyllydiart to Pontrilas Court
C1205 Green Lane to Rhydunnog Lane, Michealchurch Escley
C1105 - Ivington Road, Newtown
C1082 - Gorsty Corner to Bearwood Cross Road, Bearwood
C1109 - Auberrow Road to Parks Lane, Near Wellington
C1080 - Track South of Pennsylvania to Bad Patch Wood, Holme Marsh
C1234 - Bagwyllydiart Farm to Little Hill Road, Orcop