Guided walk around the 'Hatton Country' of Breinton and Warham.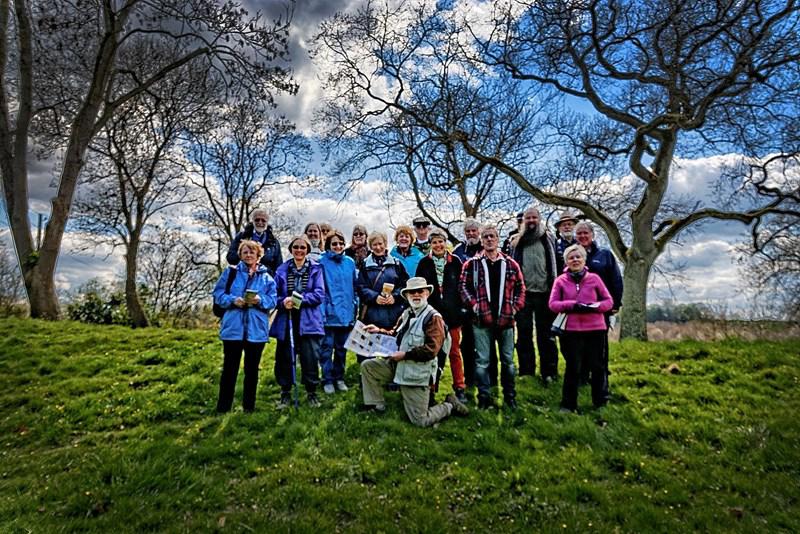 2016 marks the centenary of the death of the young talented artist Brian Hatton.
Herefordshire has been commemorating the centenary with a variety of events across the county - one of which was a guided walk by Robin Thorndyke of The Brian Hatton Trail around the 'Hatton Country' of Breinton and Warham.
The walk was incredibly popular and oversubscribed, one of the walkers who joined Robin said
"What an absolute privilege it was to be able to go on the first walk around the Brian Hatton Trail on Saturday.

The weather was good and the scenery, encompassing the river Wye, magnificent Bluebell Woods, fine houses, ancient earthworks etc and the extraordinary work of this fine Herefordshire artist behind it all.

Robin Thorndyke has done a terrific job in selecting a great route and in linking it to a number of Hatton's paintings and drawings which are displayed on the accompanying leaflet.

It is very much to be hoped that the centenary of his death and this imaginative venture will kick-start renewed interest in the artist's work and in the rewards to be had the Herefordshire countryside.

Well done and thanks to all involved and particularly to Robin for his keen appreciation of Hattons work and his unceasing promotion of it. A lesson and inspiration for us all I think!"
Robin will be hosting another walk on July 16, so don't miss out and call 01432 350818 to book your place now.
There are a variety of events taking place across Herefordshire to mark the Brian Hatton anniversary, you can find all the information on our Brian Hatton website brianhatton.herefordshire.gov.uk/events
You can also view Brian Hatton paintings in the museum's online collection
www.herefordshire.gov.uk/museumcollections
However if you would like to see them in person the Hatton collection of over 1000 paintings and drawings is held by Hereford Museum and is available to view on Tuesdays and Wednsdays by appointment, call 01432 383383 or visit www.herefordshire.gov.uk/museums for more information.