Phase one completion of building work sees Hereford library, museum and art gallery reopen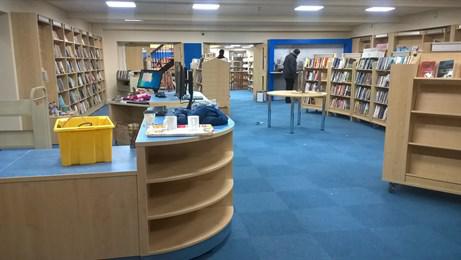 Hereford library, museum and art gallery reopens Tuesday 31 January, following the phase one completion of building work at Broad Street.
The building was closed due to asbestos found on the site, but has provided the opportunity to modernise the library for the many users. Spaces have been reconfigured to improve the customer experience, a suite of new PCs are available to use for free and the ceiling has been raised with new lighting. The county library will also welcome WISH (Wellbeing Information and Signposting for Herefordshire) which will operate from the main library as a shared facility to make the most of the building.
Hereford museum and art gallery will launch an exhibition celebrating the life and work of Herefordshire artist Brian Hatton, with additional opening hours during the first two weeks.
Councillor Harry Bramer, Cabinet member for contracts and assets, said: "This is a great step in improving the customer experience at Hereford Library, with a modern look based on users' feedback.

"Herefordshire Council is very grateful to those who have worked tirelessly behind the scenes to get Broad Street ready for opening, and to the frontline library and museum staff who have remained positive during the period of closure.

"The council has shown it is committed to the library service, with this additional investment in Hereford and previous investment in the award-winning Masters House that houses Ledbury library."
Further work on the development of the Broad Street building will follow, with updates on the Herefordshire libraries Facebook page
Published: Thursday, 26th January 2017